Our Vehicle Wrapping & Graphic Capabilties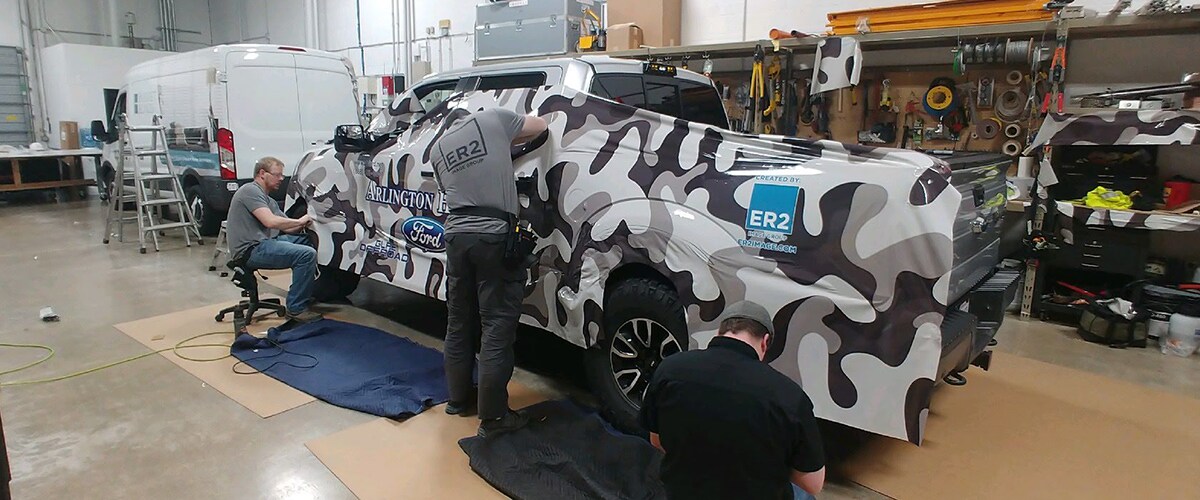 At Arlington Heights Ford, not only are we your tried-and-true neighborhood car dealership, but we also offer custom vehicle wrapping and other graphic and design capabilities to take your car's aesthetic to the next level. The process is known as "wrap advertising" and it will instantly make your business stand out wherever the vehicle goes.
The vehicle wraps themselves are made from large, thin sheets of vinyl and are easily applied and removed to all vehicle surfaces including the side panels, the roof, and even the windows. Where you choose to include the vinyl wrapping is up to you, as each process is custom and tailored to the needs of the consumer.
Computer-driven vinyl is the perfect way to put your company's logo or message on the vehicle of your choice. We offer a wide variety of different finishes so that you can get the look and feel that you want to achieve. Use photographs, your company's logo, a printed message or a variety of different elements to bring your vision to life.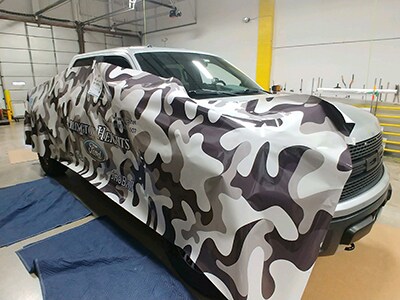 Long-Lasting & Affordable
If you are wrapping your vehicle in a solid color, the vinyl wrap will last up to 10 years! If you have a full-color digital vinyl wrap, it will last up to five years. Regardless of rain, ice, sleet, snow or heat, the vinyl wrapping will stay intact and vibrant.
The process itself is extremely affordable and fast, and it makes a big impact wherever you are driving or parked! Rest assured that all vinyl wraps come off cleanly and won't leave any marks or residue on your vehicle, making them easy to change out if you want to feature an updated design or logo.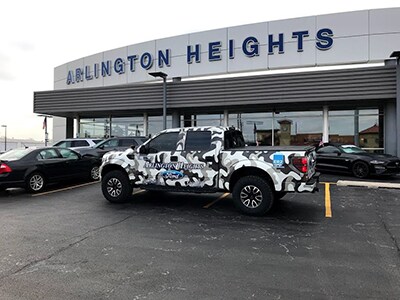 We Can Wrap Any Vehicle
Regardless of the make and model of your vehicle, our team of designers are ready and willing to transform it. We have design templates made for many different models of cars, trucks, vans and more, but we are also willing to create custom wraps for the vehicle of your choice as well.
If you are interested in utilizing our vehicle wrapping and graphic capabilities, don't hesitate to contact our team at Arlington Heights Ford today.
Hours
Monday

9am-8pm

Tuesday

9am-8pm

Wednesday

9am-8pm

Thursday

9am-8pm

Friday

9am-8pm

Saturday

9am-6pm

Sunday

Closed