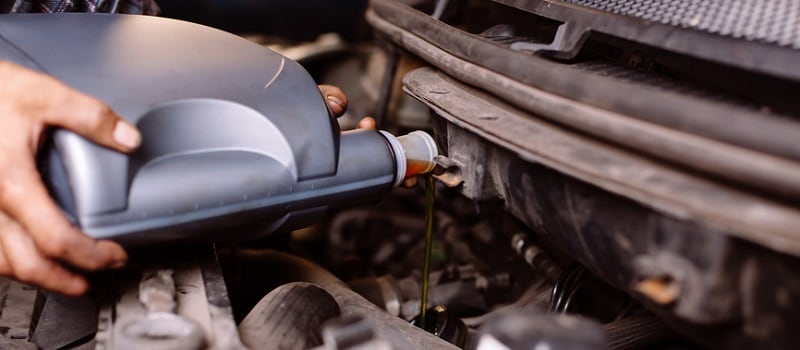 Schedule Your Next Oil Change Near Northbrook
Oil changes and regular service are vitally important for the health and longevity of your vehicle, yet many people put off these important automotive needs. Promptly scheduling your automobile's needed maintenance and having services performed in a timely manner not only help keep your vehicle running well but can help you avoid larger, much more expensive automotive problems down the road.
When you're in need of vehicle service, including oil change, near Northbrook, you can trust the team at Arlington Heights Ford. Our state-of-the-art facility is located at 801 W. Dundee Road in Arlington Heights, just 20 minutes from Northbrook. To reach the dealership from Northbrook:
From Pfingsten Road, turn left onto IL-68 West/Dundee Road
Travel 7.8 miles
Make a U-turn at North Wilke Road
Travel 0.4 miles and arrive at Arlington Heights Ford on your right
Dependable Service
The knowledgeable technicians at Arlington Heights Ford work diligently to provide our valued customers with outstanding, efficient service to keep their vehicles running well. When repairs are needed, we strive to get them done quickly and properly, so you and your vehicle are back on the road fast. We perform work on both new and used vehicles, offering services from oil changes to transmission replacement.
Our facility features the following:
28 Ford factory technicians
Ford Blue Oval Certification 2000
Competitive rates for maintenance service, including Ford Required Maintenance Menu packages
Advanced computer diagnostic equipment
Extended service hours
The hours of operation in our service department are:
Monday through Friday, 7 a.m. to 7 p.m.
Saturdays, 8 a.m. to 5 p.m.
Expert Oil Changes
Vehicles on the road today are some of the most advanced machines ever built, and on these cutting-edge models, even oil changes aren't as simple as they once were. But whether your automobile is the latest model year, chockfull of high-tech innovations, or an older, more basic model, the professionals in our service department have the knowledge and proper parts to ensure the work performed on your vehicle is performed right.
Regular oil and filter changes are extremely important to keep your vehicle operating efficiently. Among its functions, oil contributes to problem-free engine operation, keeping your car's combustion chamber cool, and helping prevent the buildup of carbon and varnish in your engine. Using the right grade of oil can also help improve your vehicle's fuel economy.
Whatever type of vehicle you drive, the pros at Arlington Heights Ford are in the know about its needs, and they'll help maintain it in the right ways at the appropriate times. While some drivers don't service their vehicles often enough, others could be servicing them too much. We'll help you save time and money by getting your vehicle the service it needs when it needs it. For instance, some vehicles can log 10,000 miles before they need an oil change, while others need them more frequently. Don't know which category your vehicle falls into? Don't worry - we do.
Time to Set an Appointment
For all your vehicle service needs and much more, you can count on the friendly team at Arlington Heights Ford. Contact us or come into our world-class facility today to schedule an appointment. We look forward to seeing you!