Images are of 2016 model
Next Years' Ford Taurus Boasts Luxury and Power
Ford fans in Arlington Heights and Schaumburg are looking forward to the 2017 Ford Taurus. Revamped for a new model year, it has a muscular and powerful build and body that you'll love, with an engine that puts forth the speed you need. Check it out from Arlington Heights Ford today.
Exterior and Chassis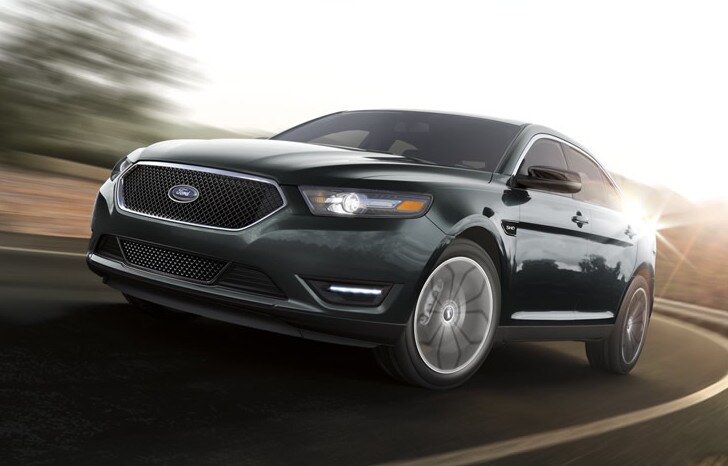 The 2017 Ford Taurus gets a moderate revamp, retaining many of the sleek design cues and bulky dimensions that Taurus drivers know and love. However, the body will adopt a lighter and more economical platform called the CD4, rather than the old D4 platform. This means a long, low, and wide body for a sportier look. The chassis will be made from high strength aluminum rather than traditional steel for a significant reduction in weight.
The front fascia will feature a uniquely designed Taurus SHO grille with high-intensity discharge headlights for brighter and clearer light with great visibility, as well as a strip of daytime running lights that are integrated into the front bumper. The hexagonal grille is flanked by horizontal fins for a streamlined shape. The rear sports LED taillights for minimal energy use with maximum visibility and a chrome bar for an additional bit of flash. The sporty deck lid-mounted spoiler reduces turbulence for better control of the Taurus, while the dual-tipped exhaust system with a chrome finish adds a sporty finish.
Interior
Inside, the new Ford Taurus has more room than ever thanks to the modified body with the longer wheelbase. There's even more room than ever to stretch out in the backseat, with lots of leg room and plush seats. The seats, dashboard, and steering wheel are upholstered with premium leather, and the front seats are electrically adjustable with remote functions. The front seats may include a lumbar massage function, while the rear seats will recline for a more comfortable cabin. All of the seats will have heated and ventilated capability for a more climate-controlled experience. In addition, you'll get a folding sensor seat with a control console for vehicle functions like the infotainment system, the seat positioning, and the air conditioning system.
The wood detailing and paneling will give the inside of the Taurus a sense of luxury, while the dual power sun roof folds into itself so there's not as much of an intrusion into the cabin. You'll also get an improved Sony audio system with high-quality speakers. The new LCD computer screen is larger than before for easily visible apps. The vertical gear selector has been replaced with a rotary dial gear selector for easier gear shifting, while the new steering wheel adds paddle shifters. You'll get dual-zone automatic climate control, as well as 4G LTE mobile connectivity. Smart phone and tablet integration make it easy to connect your phone to your in-vehicle computer system.
You'll also get a rear view camera with dynamic backup guidelines, as well as a traffic alert technology system that helps you avoid collisions. A built-in sensor system will automatically open your car door when you approach with the remote proximity key system in your hand, pocket, or purse. Finally, you'll get wireless charging technology for your mobile devices.
Performance
The 2017 Ford Taurus has been unveiled in China with a 2.7L EcoBoost V6 engine. It was adapted from the F-150 pickup line, with an impressive production of 325 hp and 375 lb-ft of torque. It may also be available with the 3.5L naturally aspirated V6 engine, which produces 240 hp and 37 5 lb-ft of torque. The standard engine that came with the previous year's model is a 2.0L V6 engine that produced 240 hp and 268 lb-ft of torque, accelerating from 0 to 60 mph in just 6 seconds with a fuel efficiency of 30 mpg highway. This engine might also be retained on the Taurus, but it's uncertain which markets any of these engines might be sold in. All of these engines will be paired with a 6-speed automatic transmission, but may be sold in America with a more impressive 9-speed automatic transmission.
Get Your 2017 Ford Taurus
The 2017 Ford Taurus will soon hit the market in China, but the American market is slated to follow behind before too long. For more information about the 2017 Ford Taurus or to test-drive the current 2016 model of the Ford Taurus, contact Arlington Heights Ford today! You can call us at 888-481-8607 or reach us at 801 W Dundee Rd, Arlington Heights.