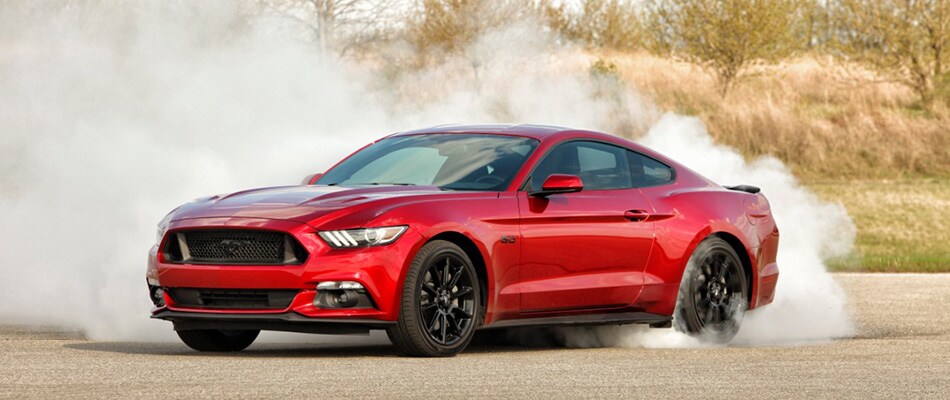 Mustang fans in Arlington Heights and Schaumburg have been waiting for their first glimpse of latest iconic sports car, and the 2017 Ford Mustang does not disappoint. It's loaded with new standard features to make a great ride for every Mustang driver, and adds all the convenience and comfort you want in a sports car. Preview the new 'Stang at
Arlington Heights Ford
today.
Design
The Ford Mustang is known for its lightweight and rigid body structure, making handling easy and responsive and making its performance outstanding. The 2017 Mustang model has minimal changes to the exterior, sporting the same sleek look that Mustang drivers love. The front and rear fascias have been fine-tuned, while the front bumper and grille have been reshaped for a more aggressive nose and wider air vents. You'll also get a bigger and more muscular hood, as well as a larger power extractor. In the rear, the spoiler has been redesigned for a sleeker look, while the quad-angle exhaust pipes give the Mustang a final sporty touch.
Package Changes
The Track package will no longer be an available option on the 2017 Ford Mustang Shelby GT350 and GT350R. Previous Mustang owners were frustrated because the performance features that could be found in the Track package were not available in the Technology package, which led to the idea that the Mustang could come with great performance and handling or with great convenience and comfort, but not both. Instead, both Track package has been discontinued as an add-on option, with the most popular features now standard on the 2017 Ford Mustang Shelby models. This lets all Mustang owners have the advantage of fantastic Track features and convenient Technology features.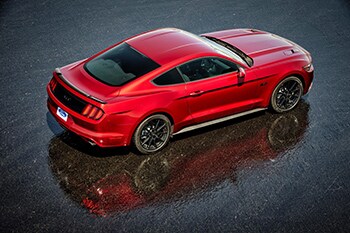 The features from the Track package that will now be standard are:
MagneRide suspension, a magnetic damping system that uses magnetic fields to instantly adjust to the road and give you a ride that's responsive while delivering the ultimate in smooth

An aluminum strut tower brace that provides extra stiffness and control to the car without adding extra weight

Transmission and differential coolers to allow you to drive at track speeds without worrying about the possibility of an overheat situation

Heavy-duty front suspension springs that help cushion you from the more intense movements of the car

Carbon-fiber wheels to reduce weight and improve performance and longevity
Due to the additional standard features, the Technology package has been replaced by the Convenience package. It doesn't include the add-on MagneRide suspension, as it's now a standard part of the vehicle, but it has features like:
Power-adjustable leather-trimmed seats

Heated and cooled climate control for the seats

Additional premium speakers for the audio system
For those in a lower price range, the Electronics package adds some convenience features without the extra trimmings. You won't get the power leather-trimmed seats, but you will get the Ford Sync 3 with a voice-activated GPS navigation system and turn-by-turn directions, as well as Sirius XM satellite radio.
You'll get more stand-alone features which were previously optional, but have been added to the standard package. The raised rear deck lid spoiler comes on every model to reduce turbulence and improve handling. You'll also get three new choices of colors in Grabber Blue, Ruby Red Metallic, and Lightning Blue. Other features include:
Racing stripes

A 12-speaker Shaker radio system for premium sound

A Ford Sync in-vehicle navigation system

Driver awareness and alertness features such as blind-spot alert sensors and rear cross-traffic or obstacle detection
Power and Performance
The 2017 Ford Mustang might be getting a GT500 model! Word has it that Ford has been testing a new model of 5.0L V8 engine that's twin turbocharged and can produce over 700 hp. However, there's also speculation that this engine will not be available for another year.
Most of the power train systems will carry over from last year's model, however. You'll be able to choose engines like:
A 3.7L V6 that produces 300 hp and 280 lb-ft of torque on the base Fastback and convertible model.

The 2.3L turbocharged 4-cylinder engine uses EcoBoost technology to produce more power without sacrificing efficiency to the tune of 310 hp and 320 lb-ft of torque.

If you purchase a GT model, you'll get an impressive 5.0L V8 engine that produces 435 hp and 400 lb-ft of torque.

The GT350 includes a 5.2L V8 engine that produces 529 hp and 429 lb-ft of torque without a supercharger or turbocharger.
Each of these engines come with a standard six-speed manual transmission or an optional six-speed automatic transmission with paddle shifters, except for the GT350, which is only available with the manual transmission.
Get the 2017 Ford Mustang
When the 2017 Ford Mustang comes out, you can bet that Arlington Heights Ford will have it. For more information on the 2017 Ford Mustang, call us today at (847) 870-1300 or come see us at 801 W Dundee Rd, Arlington Heights.
2016 model shown