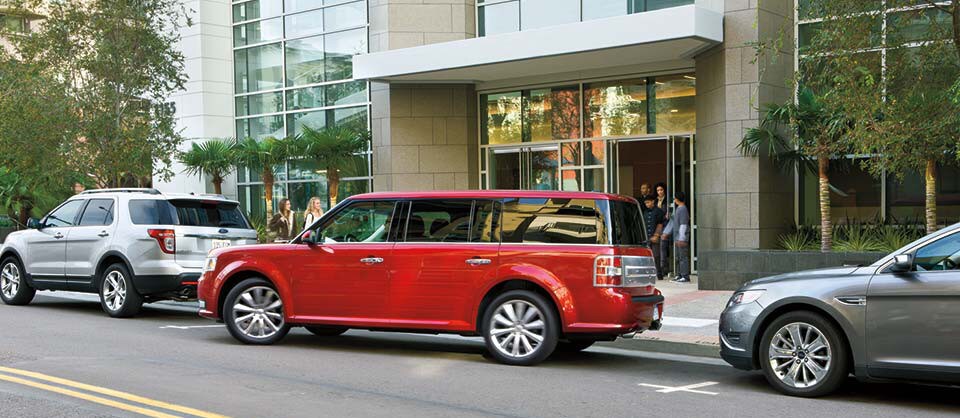 Images are of 2016 model
2017 Ford Flex
The prestigious Ford Flex line of Sports Utility Vehicles has always been one of preeminent trend-setters of its vehicle class ever since its momentous debut in mid-2008. The Flex's seven subsequent iterations have all built on the sterling precedent of the original, elevating it above the subpar example of its competing peers and securing its role as a mainstay in Ford's uncontested roster of exquisitely-engineered automobiles.
As the very latest incarnation of this long line of prestigious SUVs, the 2017 Ford Flex is likely to comprehensively surpass its immediate predecessor in the areas of powertrain proficiency, exterior finesse, and interior comfort. Residents of Schaumburg and Arlington Heights, one and all, are invited to witness firsthand what the 2017 Ford Flex will have to offer them come later this year, as well as have the opportunity to test-drive this year's previous model in the form of the 2016 edition. We look forward to guiding you in the informed purchase of an exciting new Ford vehicle with our impressive in-house array of vehicle selections priced to your convenience!
What Does The 2017 Ford Flex Offer in The way of Changes?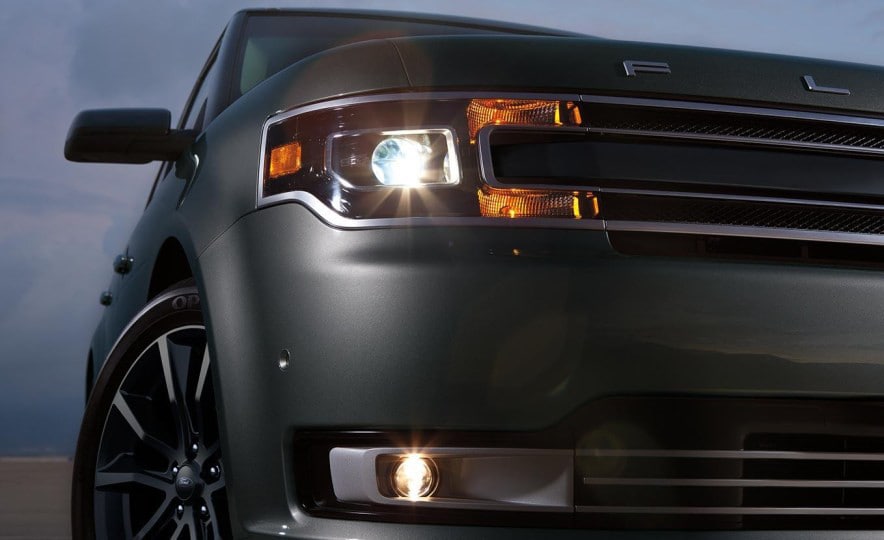 Among the most prominent of additions predicted to be included in the this year's all-new rendition, the 2017 Ford Flex is rumored to feature improved powertrain options primed to offer better performance and improved fuel efficiency. We speculate that these powertrains would consist of a standard 3.5L V6 capable of producing an estimated 287 horsepower and 254 lb-ft of torque. Top-tier trims are likely to be fitted with a more powerful engine. The final specs of this supposed high power upgrade have not yet been disclosed to the public, of course; however, we have gleaned reports that this engine's output will be boosted by twin-turbochargers that produce a speculated initial estimate of 365 horsepower and 350 lb-ft of torque.
In terms of fuel economy, the 3.5L is expected to produce a 18/25 miles per gallon between city and highway, while the upgrade's fuel economy estimate is currently projected to sit around the area of 16/23 miles per gallon between city and highway. As far as exterior changes go, the 2017 Flex is predicted to offer as many as two new color palettes for owners to choose from. Besides that, this year's chassis will be near-identical to that of its predecessor, with a few minor tweaks and iteration improvements.
What Do The 2017 Flex and The 2016 Model Have in Common?
The 2017 Ford Flex would not exist without the precedent of the 2016 model. As such, it's not a surprise that the 2017 edition would be engineered to retain a portion if not a majority of the 2016's most prized specs and features. For the most part, the 2017 will retain the iconic shape and size of its preceding models. The Flex remains at least several inches longer in overall body length compared to its segment competition. Likely to return in the 2017, perhaps accompanied by a complementary dress-up option, is an optional $1,495 appearance package that adds black exterior accents that include a black roof and shadow-finished 20-inch alloy wheels. As for the interior, it's possible that Ford will offer new accents in the form of new hue and material options. The 2017 Ford Flex remains the same great SUV-class vehicle motorists have come to know and love, only now with the added bonus of experience married with technical reiteration!
The 2016 Ford Flex Specs and Features
The 2016 Ford Flex presses a strong argument for why you should not only look hold out through the wait for the 2017 edition but also why you shouldn't. The 2016 Flex is a remarkable vehicle, with impressive size, beautiful styling, impressive powertrain performance, and excellent handling.
Here are just a few of the many reasons why you could consider it for your next purchase:
Formidable Horsepower: The 2016 Ford Flex comes with two optional powertrains, a 3.5L VCT V6 engine capable of 287 horsepower and 254 lb.-ft of torque. The 2016's alternate powertrain in the form of a 3.5L EcoBoost® V6 that produces up 365 horsepower and 350 lb.-ft of torque.
Phenomenal Fuel Economy: The 2016 Flex's FWD model is capable of 16/23 city and highway fuel estimate with an 19 mile combined average. On the other hand, the 2016's AWD is able to generate up to 16/22 miles per gallon between city and highway and a combined average of 18 miles per gallon.
Affordable Price Points: The 2017 Ford Flex and its assorted variant trims are currently projected to cost anywhere between a base price of $30,000 and $38,000 MSRP.
Prepare Yourself for The Phenomenal 2017 Ford Flex When It Arrives in Schaumburg and Arlington Heights Later This Year!
The 2017 Ford Flex is coming to Schaumburg and Arlington Heights late this year, and Arlington Heights is your best best to get the latest pricing and spec information one of this year's most anticipated SUV models. Pay us a visit at 801 W. Dundee Road Arlington Heights or call us at (888) 481-8607 to schedule a test drive of the 2016 Flex while you wait for the 2017!