Arlington Heights Ford
has everything you need to help you choose the Ford truck that fits your needs perfectly. Check out our inventory of trucks today and see what you'll get.
Ford Sync Technology
When you get a truck that includes Ford's telematics system, you'll be using one of the most advanced in-vehicle app systems in the industry. Ford Sync is the basic telematics system that you'll get, with the following features:
Accessed easily through LCD screen on your console

Bluetooth phone streaming lets you access your contacts and place hands-free calls through your vehicle's speakers with the push of a button

Sync App Link lets you use your mobile device apps through the SYNC system

It can be controlled via voice commands and steering wheel mounted controls for hands-free functioning
Upgrade to the Ford Sync 3 system, and you'll get:
LCD touchscreen that lets you control and use your apps with standard gestures that work on your mobile devices

Turn-by-turn navigation system that uses satellite information in real time

Adaptive destination search with voice commands

Siri Seamless Integration with voice commands, used to do anything from making restaurant reservations to sending texts, and more
Intelligent Four-Wheel Drive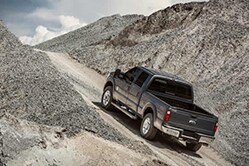 When you get a truck with four-wheel drive or all-wheel drive, make it Ford's intelligent drive system. These intelligent drive systems enhance the traction and handling of your vehicle on any terrain through constant monitoring, reducing slippage and improving grip. It uses an ECU that monitors internal systems in your truck such as the brakes, clutch, and steering every 16 milliseconds. It uses this information to determine road conditions and traction. When it determines that you need more traction, it will send torque to the appropriate wheels to keep you gripping the road. Intelligent four-wheel drive helps you moment by moment to keep control of your truck. You'll even get an information display that shows you how much torque is being sent to each wheel.
Ford F-150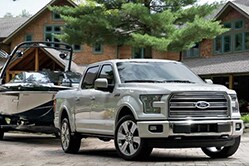 The 2016 Ford F-150 has the distinction of being the best-selling truck in America. It has been named the Best Buy of the Year among trucks from the Kelley Blue Book, Best Truck Brand by the U.S. News and World Report, and won a Most Popular award on Edmunds.com. With its versatile features and capabilities for work, it's not hard to understand why!
Choose from four powerful engines, providing incredible strength of up to 385 hp and 420 lb-ft of torque, and maximum towing power of up to 12,200 lbs. It has a 5-star crash test rating, and the fully boxed high-strength steel frame makes it the safest Ford F-150 ever. You'll also get features like Pro Backup Trailer Assist, which uses advanced rearview camera technology and intuitive navigation to make backing up your trailer as easy as turning a knob.
Ford F-150 Raptor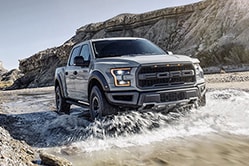 The 2017 Ford F-150 Raptor will be the newest iteration of this incredible performance work truck. The chassis will be made from military grade high strength aluminum alloy, while the steel boxed frame distributes crash energy safely across the body to keep you secure and alive in case of accident. You'll get the option of a 3.5L EcoBoost engine, which uses twin-turbocharged intercooled fuel to produce more power than even the previous V8 engine. The 3-inch racing shocks use custom internal bypass technology for great performance and smooth rides over the roughest terrain.
Ford Super Duty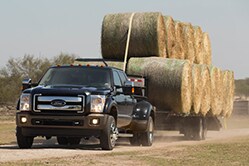 The 2016 Ford Super Duty 250 and 350 is made for performance. The 6.7L Power Stroke engine produces a class-leading 440 hp of power, with an incredible (and class-leading) 860 lb-ft of torque that lets you tow up to 31,200 lbs. The fuel economy is also the best in its class, while the high capacity tow package features a wide-track front axle and more for handling all that weight. The F-450 includes an upgraded suspension, towing gear system, and upgraded tires to help you safely haul your load. You'll also get a tow/haul mode that holds the correct gear whether you're going up or down, reducing gear hunting and speed when needed. The engine exhaust braking function throttles the exhaust flow, giving you more power for braking when going downhill.
Next Year's Super Duty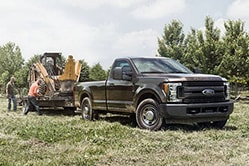 The 2017 Ford Super Duty advances even further. It will inherit the 2016 model's high-strength steel frame and military grade aluminum chassis, including three choices of powerful engine with plenty of towing power and incredible strength. You will also get an intelligent towing rig that makes hauling a snap, along with seven cameras for your driver awareness.
Get Your Ford Truck Today
If you need a work truck, make sure yours is Built Ford Tough. Get your Ford truck today at Arlington Heights Ford. You can call us at (847) 870-1300 or come see us at 801 W Dundee Rd, Arlington Heights.