Sedans are a great vehicle choice for those living in Arlington Heights or Schaumburg. After all, they can fit plenty of people while also being versatile to Illinois weather conditions. Some people will find themselves comparing the 2016 Ford Taurus vs the 2016 Honda Accord, and while this may seem like a good idea at first, it's actually not much of a competition. When you look at things like power and performance, cargo space, passenger space, and features, the Taurus comes out victorious. Take a look at how this vehicle dominates the competition, and then head down to Arlington Heights Ford to find yours today.
Power and Performance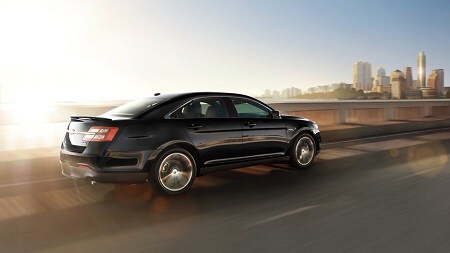 Zipping through the Arlington Heights and Schaumburg roads has never been easier when you bring the 2016 Ford Taurus along for the ride. This vehicle has two engine options for you to choose from. You can opt for the standard 3.5L V6 engine that offers 288 hp and 254 lb-ft of torque. There's also a 2.0L I4 engine for those interested in something more fuel efficient.  No matter which you choose, you'll also enjoy the standard six-speed automatic transmission.
If you instead opt to go with the Accord, you'll be giving up a lot of power. This vehicle comes standard with a 2.4L I4 engine that only gets 185 hp and 181 lb-ft of torque. Plus, this vehicle comes standard with a six-speed manual transmission. Basically, you're getting a lot less power. So if you would prefer to have something that truly drives you, then be sure to choose the Taurus.
Cargo Space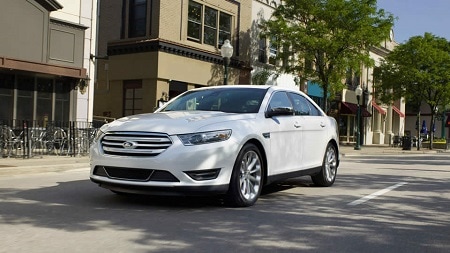 Arlington Heights and Schaumburg drivers know how to shop, which is why you need a vehicle that gives you plenty of cargo space to haul all your belongings. When you opt for the Taurus, you'll get 20.1 cubic feet of cargo space. When you compare this to the Accord, you'll notice a significant difference. After all, the Accord only offers 15.8 cubic feet of cargo space, so you'll need to get creative in order to fit all your belongings inside. Instead of doing that, simply choose the vehicle that will give you more space for your money.
Passenger Space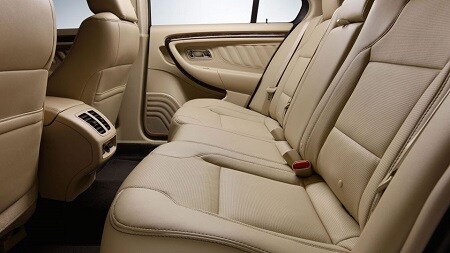 In addition to having room for your cargo, you also want to have plenty of space for your passengers. The 2016 Ford Taurus may have slightly less overall passenger space, but the vehicle is taller, which gives passengers extra space where it counts. For instance, second-row passengers will enjoy having 37.8 inches of headroom compared to 37.5 inches. They'll also enjoy having 55.8 inches of hip room compared to only 54.7 inches. So instead of listening to your passengers complain about being cramped, you should choose the Taurus so that everyone has a comfortable experience.
Features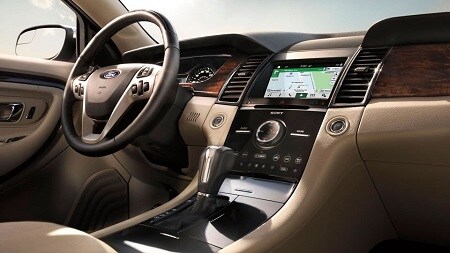 Although both sedans may claim to have the features and amenities that you want, only one does. The Taurus offers more enjoyable and luxury features than the Accord, which makes it truly stand out from the competition. For instance, if you opt for the Taurus you'll get a standard rearview camera. This way, you can have a clear view behind you while you're in reverse. This allows you to avoid collisions and keep yourself safe. If you choose the Accord, you will need to pay extra in order to get this feature.
In addition to safety, the Taurus also thrives with entertainment. When you choose this vehicle, you and your passengers will be able to enjoy a Sony premium audio system. This way, you can experience music and more with concert-like quality. You do not get this feature if you opt for the Accord.
Finally, the Taurus delivers more detail. This vehicle comes with ambient interior lighting. This not only sets the mood, but it also provides necessary lighting when you need it. Once again, this is something you simply will not find when you choose Honda.
Let Arlington Heights Ford Suit Your Needs
Now that you can see the 2016 Ford Taurus is the better option over the 2016 Honda Accord, you need to make one yours today. Visit Arlington Heights Ford today at 801 W Dundee Road in Arlington Heights to see our huge selection of this impressive new vehicle. You can also opt to call us at 847.870.1300 or contact us online to schedule a test drive and experience this new model for yourself. If you really want to change the way you drive in Arlington Heights and Schaumburg, make sure you let us provide you with a new Taurus today.