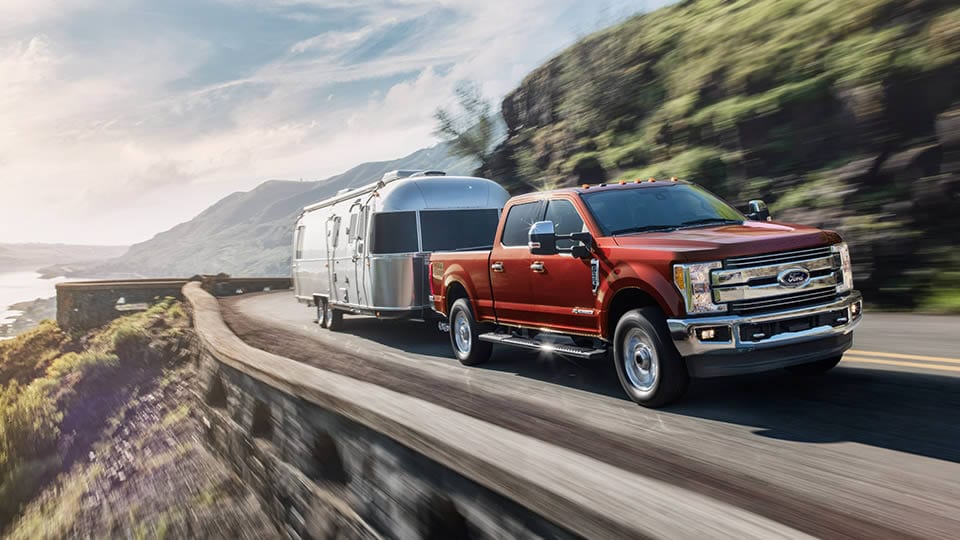 If you're planning to invest in the 2017 Ford Super Duty truck for your small business in Schaumburg, you might be wondering about its performance capacity. This truck features best-in-class power and performance! Check it out today from Arlington Heights Ford.
Powertrain
The 2017 Ford Super Duty truck features a choice of two powerful engines. The base gasoline engine is a 6.2L 2-valve V8 engine, with a single overhead cam shaft and sequential electric fuel injection for a smooth and steady stream of power. The cast iron engine is built for strength and durability. It produces up to 385 hp and 430 lb-ft of torque. This powerful engine can tow up to 16,700 lbs. at a time with the 5th wheel gooseneck towing set-up.
Choose the 6.7L Power Stroke V8 turbo diesel engine for more torque and lower emissions. It uses high-pressure common rail fuel injection, and a single sequential turbocharger with a charged air cooler for a boost of power when you need it. The strong design uses an inverse-flow configuration, as well as an inboard exhaust manifold that means faster air displacement and more power. The engine is made from compacted graphite iron for smooth performance, and produces 440 hp and a best-in-class 925 lb-ft of torque. It can tow an incredible 32,500 lbs. at a time.
Handling and Control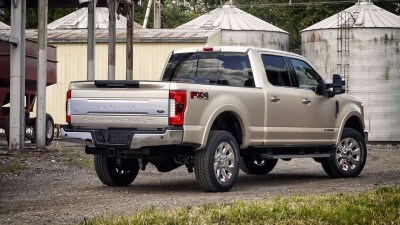 The 2017 Ford Super Duty truck is fully equipped with features that enhance performance, handling, and control for an easy ride. The frame is stronger than ever, with reinforced axles for premium load carrying. The upgraded suspension is stronger and more powerful, with springs that are designed to work specially with the enhanced frame and body. The reinforced steering components deliver the responsive ride you need when towing heavy loads with lots of torque.
The Super Duty boasts 4-wheel anti-lock brakes that are the largest in their class. This means you'll get enhanced stopping power for those heavy trailers, and the durability of the brakes means you'll need to replace the brakes far less often. The Turbo Diesel engine includes a Smart Exhaust Brake function, which restricts the exhaust flow of the turbocharger in order to slow the vehicle by generating back pressure. This means you'll get better control of your speed and descent when going down a steep grade, as well as reduced wear, which leads to lower maintenance costs.
The Super Duty features a brand new Adaptive Steering system, which is the only one in its class. You won't get this with any other truck! Adaptive steering adjusts the steering ratio in accordance with the speed of your vehicle, adjusting to your driving situation whether you're backing into a parking space or cruising at freeway speeds.
Get Your Ford Super Duty Truck Today
Are you ready to invest in the 2017 Ford Super Duty for your small business or fleet in Schaumburg? Arlington Heights Ford can make it happen! Call us today at (847) 870-1300 or come see us at 801 W Dundee Rd in Arlington Heights.