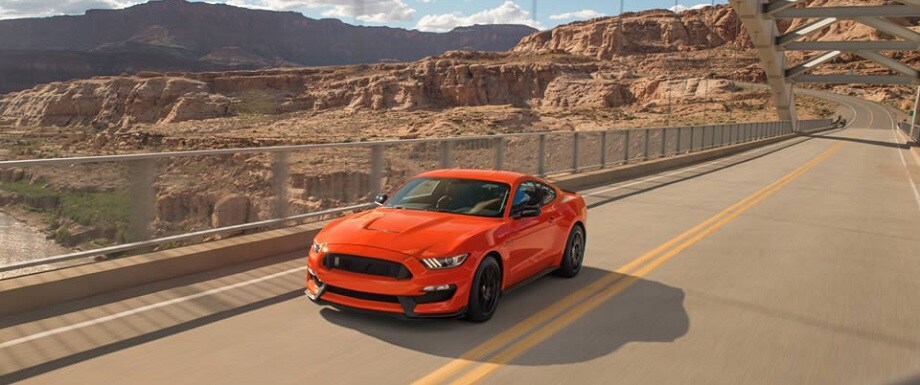 Ford Performance and Sport Cars Bring Power and Performance to Arlington Heights
Are you looking for the best sports car in the Arlington Heights and Schaumburg area? The 2016 lineup of Ford sports cars brings the kind of power that only Ford can engineer. See what you'll get from a Ford sports car when you buy yours from Arlington Heights Ford today.
Ford Sync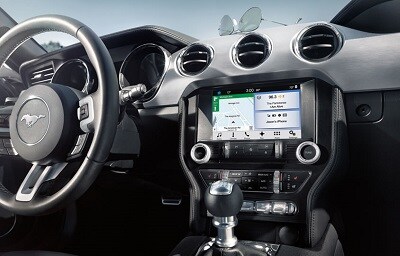 When you choose a car with the Ford Sync or Ford Sync 3 app suite, you'll get one of the most advanced infotainment and telematics systems in the industry. The Ford Sync and Ford Sync 3 in-vehicle computer helps keep you in control and connected with options and features like:
Make hands-free phone calls with Bluetooth phone streaming and voice commands
Sync up your favorite mobile device apps to your Ford Sync console
Voice-activated commands that let you use your apps while you keep your eyes on the road and your hands on the wheel
Listen to music via Internet streaming stations like Pandora or iHeartRadio, as well as Sirius XM satellite radio
Use GPS turn-by-turn navigation with transferable and stored destination search
Get minute-by-minute information about weather, gas prices, traffic, and more
Ford Engineering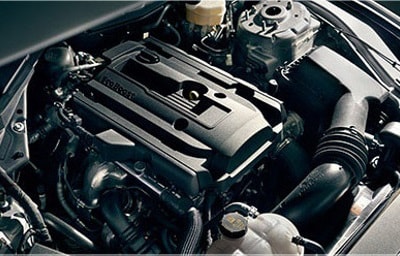 Ford is known for making some of the fastest and most powerful street-legal cars in the world, and it's all thanks to Ford's engineers. You'll get technology in Ford engines that you just won't get in any other vehicle. Here's what goes into a Ford engine:
Twin Independent Variable Cam Shaft Timing: This allows for very precise control of the variables that go into valve overlap, which is the window of time that the intake and exhaust valves in your engine are open at the same time. Ti-VCT constantly adjusts the window of overlap, which lets your engine operate at an optimal setting for high fuel efficiency or high power output when you need it.
EcoBoost: Ford EcoBoost engines are a family of direct injection turbocharged gasoline engines, co-developed by FEV engineering with Ford technology. EcoBoost engines use turbocharging technology to force extra air into the fuel, which makes for more efficiency combustion without decreasing mileage. They also use direct fuel injection to send fuel into the engine without an intake tract, which makes the process more efficient and uses less power. Engines with Ford EcoBoost deliver horsepower and torque equivalent to engines that would normally be larger and more powerful, with more cylinders and natural aspiration, while producing 20% better fuel efficiency and 15% fewer emissions.
2016 Ford Mustang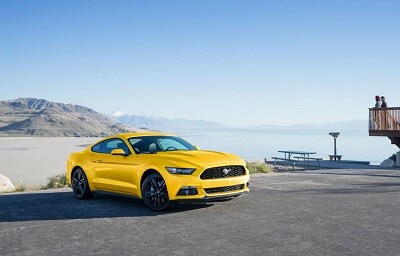 The 2016 Ford Mustang is Ford's classic muscle car, designed to put ultimate power in your hands. Choose from these powerful engines:
The 3.7L V6 engine uses Ti-VCT to produce 300 hp and 280 lb-ft of torque, getting 28 mpg highway
The 2.3L turbocharged 4-cylinder engine produces 310 hp and 320 lb-ft of torque, getting 32 mpg highway
The 5.0L V8 uses Ti-VCT to produce 435 hp and 400 lb-ft of torque, getting 25 mpg highway
The V8 engine uses electronic line-lock and launch control to lock the front brakes without engaging the back brakes, letting you rev up your engine so you're ready to go without having to balance the clutch and gas pedal.
You'll also get front and rear suspension systems that independently work together for precise control and handling, providing pitch control during hard braking and acceleration while reducing the body roll for a better ride and feel.
Four selectable drive modes let you create your own preferred dynamics for handling. The Mustang adjusts the response time and handling characteristics to optimize your control for modes like Normal, Snow/Wet, Track, and Sport.
Shelby GT Mustang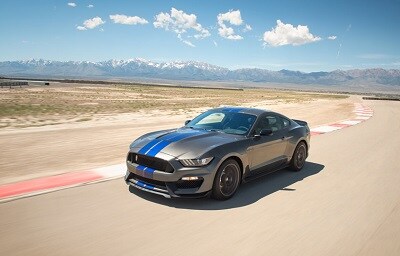 The Shelby GT is a special edition of the Ford Mustang that's meant for incredible performance. You'll get a 5.2L engine with a flat plane crank, which is lighter, smaller, and can rev higher than a standard engine. The flat plane crank V8 produces an incredible 526 of hp and 429 lb-ft of torque, perfect for racing. It also comes with a Torsen limited-slip differential, which helps to enhance traction and reduce slippage. The MagneRide suspension uses a constantly adjusted magnetic field that produces supreme damping and provides the smooth, comfortable ride of a lifetime.
Ford GT Supercar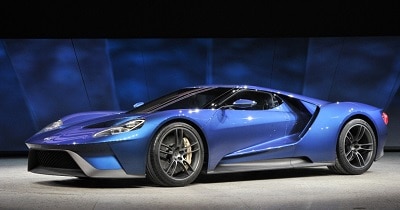 The Ford GT Supercar is Ford's way of showing off all the incredible power and performance technology they've created, packed into one glorious speed machine. The GT's aerodynamically optimized curves and lines were designed in a wind tunnel to minimize drag, while the 3.5L EcoBoost V6 engine is projected to produce an incredible 600 hp.
Get Your Ford Sports Car Today
Are you ready to ride down the road with ultimate horsepower under your fingertips? For a test drive, contact Arlington Heights Ford today! Call us at (847) 870-1300 or come see us at 801 W Dundee Rd, Arlington Heights.