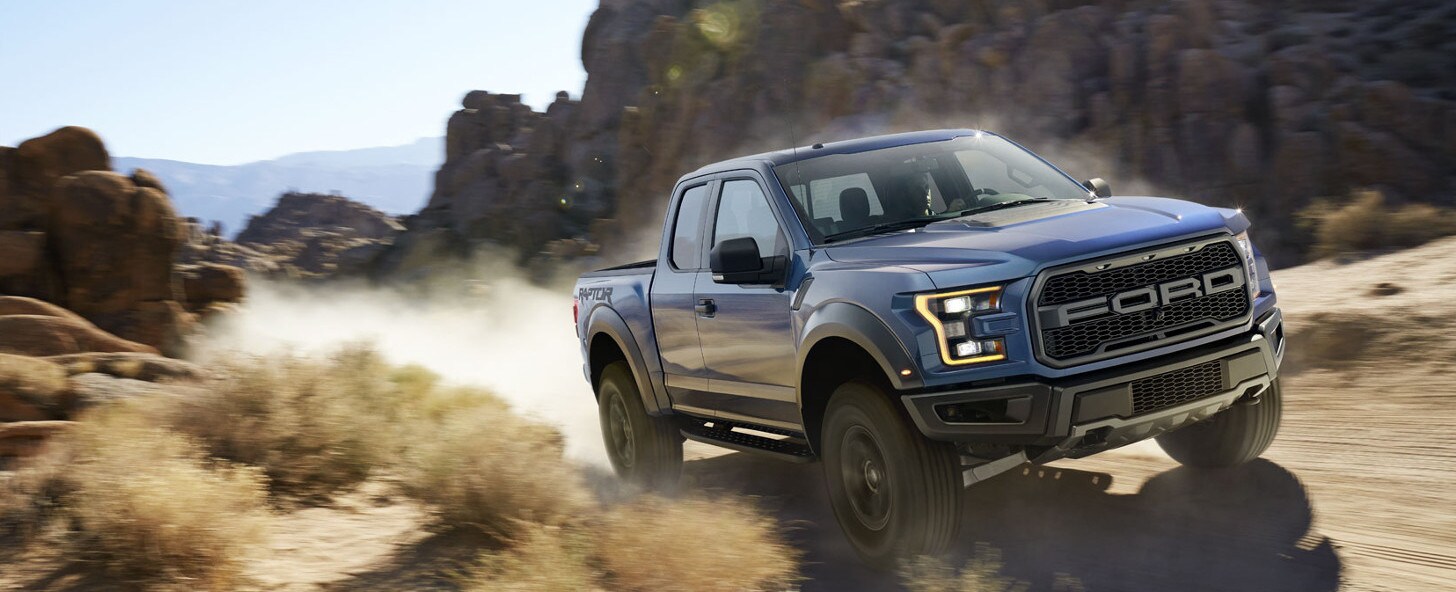 Seven Things You Never Knew You Needed to Know About the 2017 Ford F-150 Raptor
The Ford Raptor is one of the fiercest fighters in Ford's flotilla of pickup trucks, and it's being resurrected for a new generation. The 2017 Ford F-150 Raptor is a brand-new version of the classic performance pickup, with lots of power and plenty of features. Pickup fans in the Arlington Heights and Schaumburg area can't wait for it to debut! But what is there to know about the new Raptor? Check out this awesome list of facts about the new Raptor from Arlington Heights Ford.
What Are You Looking For?
---
1) What's In Its Chassis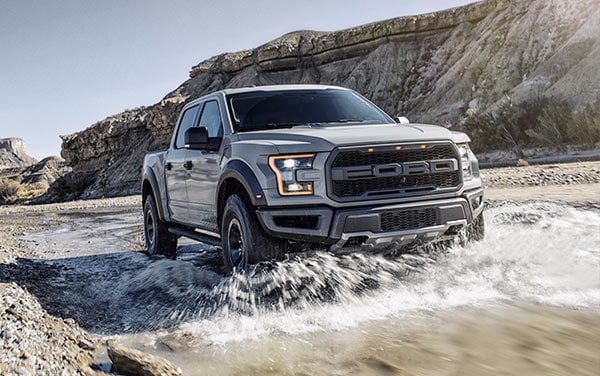 The 2017 Ford F-150 Raptor is constructed using only the finest high strength, military grade aluminum alloy. It's the kind used for real military vehicles! This makes it 500 pounds lighter than the previous model, which means you'll get even better performance. The frame is constructed out of high strength steel with a unique boxed shape that lets the vibration from rough terrain be absorbed instead of transferring it into the passenger cage, so you'll have a smooth and strong ride no matter what.
TOP
---
2) What Makes It a Great Off-Roader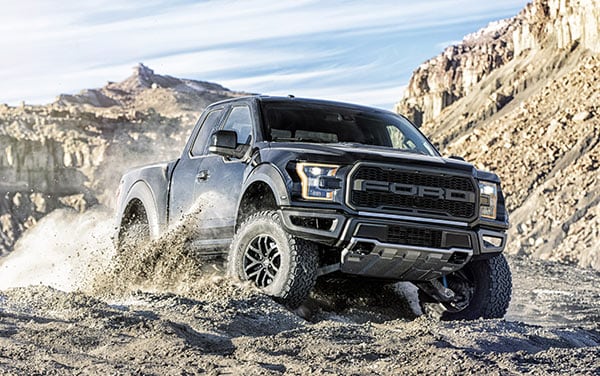 The brand new Raptor has been optimized for the most versatile and rugged off-road experience you'll ever have. The running clearance is better than the first generation Raptor, so you'll be able to climb even larger rocks. The all-new four-wheel-drive transfer case uses torque on demand to keep your Raptor secure and controllable even on the grittiest roads. Finally, the 3-inch Fox Racing Shox include custom internal bypass technology, which provides for variable damping based on wheel travel rates. This ensures you get a smooth drive as well as amazing off-road performance.
TOP
---
3) It's Got Amazing Wheels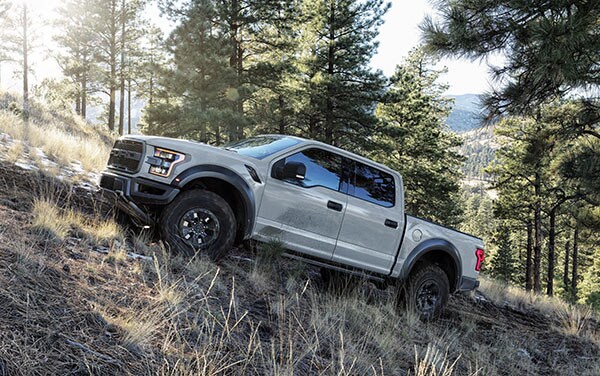 The 2017 Ford F-150 Raptor sports beadlock capable wheels that give you performance like you've never had before. The beadlock conversion kit out of the Ford Performance catalog lets you deflate or inflate locking beads, whether you need maximum off-roading traction while the beads hold tight to the rims or a perfectly smooth ride. No other truck in this vehicle class can boast these! You'll also get BF Goodrich All Terrain tires designed exclusively for the Raptor.
TOP
---
4) The Powerful Engine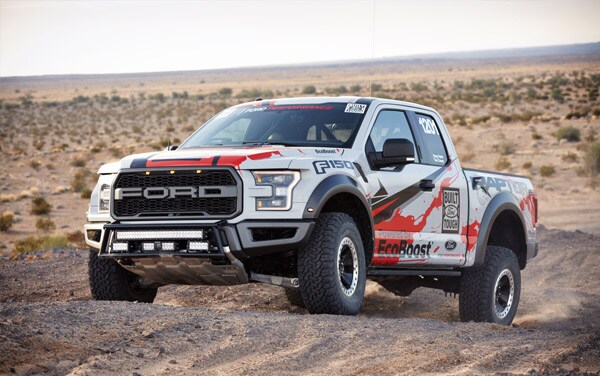 The 2017 Raptor features a brand new engine design. The 3.5L V6 EcoBoost engine uses twin turbocharging and an intercooled dual overhead cam shaft with direct fuel injection to produce incredible power. Ford's EcoBoost technology uses direct injection and a high compression ratio to get the most energy out of your gasoline, with better mileage of up to 20% high efficiency and lower emissions with a 15% reduction than comparable engines without the EcoBoost technology system. The engine comes with a 10-speed automatic transmission with a manual shift mode, as well as 4-wheel drive.
TOP
---
5) It Comes in Super Crew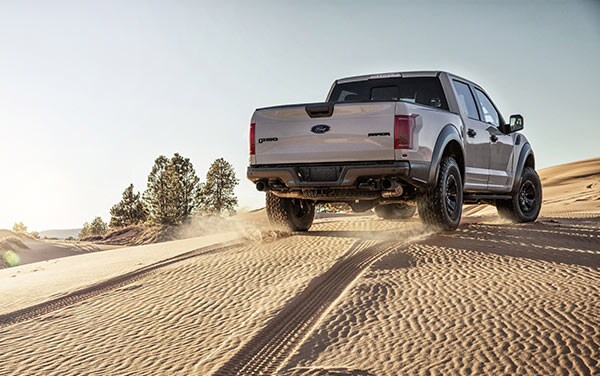 Choosing the Super Crew cab model designed for Ford's pickup trucks means more room for you and your crew. The bigger doors mean it's easier to get in and out, and more inside room means you'll be able to stretch out. Pick Super Crew for super space.
TOP
---
6) It's Designed To Look Great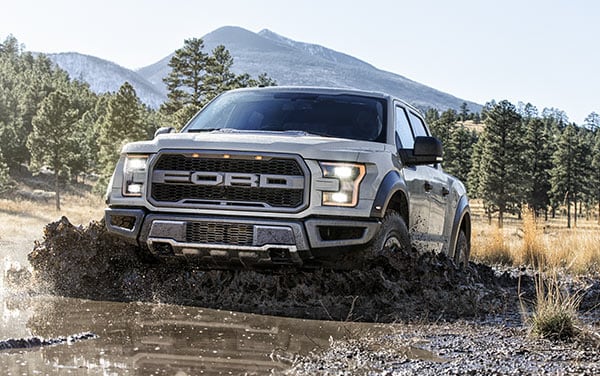 The 2017 Raptor was made to strike a unique profile that's instantly recognizable no matter where you are. The distinctive Raptor look is aggressive and confrontational, bold and decisive. The signature grille and uniquely shaped headlights create a distinctive fascia, while the muscular haunches make room for the wheels that can handle any terrain. The large front skid plate helps you keep your balance on any terrain, while the back is shaped for an improved rear departure angle that makes it easier to transition from a flat surface to a steep hill or strong grade.
TOP
---
7) It Has a Cool Inside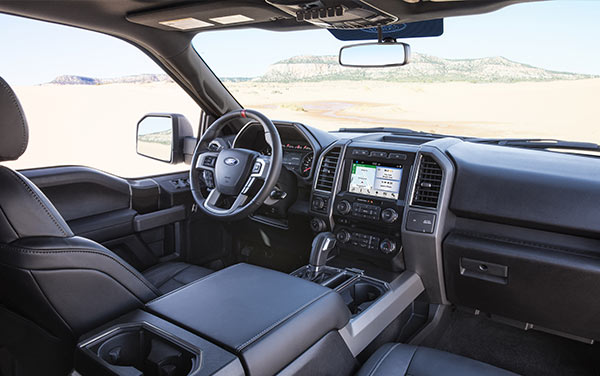 The interior of the 2017 Raptor features plenty of touches that will make you feel comfortable and in control. The sport seats have bolsters to keep you snug and safe no matter how much the terrain might jostle you otherwise, while the leather upholstery and available contrasting stitching give a sumptuous feel to the cabin. The carbon fiber accents give the cabin a sophisticated look, while the contoured steering wheel and the large paddle shifters make it easy to shift and steer.
TOP
---
Get Your Raptor
Are you ready for the arrival of the 2017 Ford F-150 Raptor? For more information on this upcoming pickup truck and to learn how you can reserve your model, contact Arlington Heights Ford today! You can call us at (847) 870-1300 or come see us at 801 W Dundee Rd, Arlington Heights.