Are you looking for the most powerful and distinctive sports car in Arlington Heights and Schaumburg? The 2016 Ford Mustang and the 2016 Ford GT exemplify sports car style and power. Both cars feature unique bodies that are built for aerodynamic performance, as well as some of the most powerful engines Ford has ever made. Which one is right for you? Check out Ford performance cars at Arlington Heights Ford today!
---
What Are You Looking For?
---
Power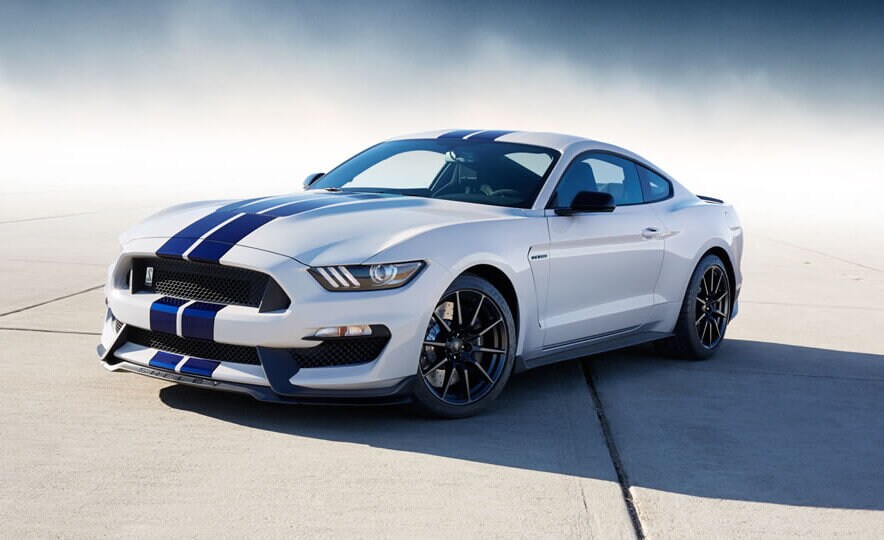 The 2016 Ford Mustang is made for one thing above all else, and that's pulse-pounding power. You'll get a choice of three engines on the base model, all of which deliver the trademark Mustang roar. The base 3.7L V6 engine uses a twin independent variable cam shaft device for precise timing and control of the air intake and exhaust output, enhancing peak power and low-speed torque with optimal efficiency. It produces 200 hp and 280 lb-ft of torque, and nets a 28 mpg highway rating.
The 2.3L 4-cylinder EcoBoost engine uses turbocharged direct injection for more power when you need it, transferring a high pulse of energy to the turbine for quick torque supply. You'll get 310 hp and 320 lb-ft of torque from this engine. Finally, the 5.0L V8 engine is built to maximize power generation with every compression using its large air valves, high-flow ports, and impressive lift. It produces 435 hp and 400 lb-ft of torque, emitting a guttural rumble that signals the Mustang's arrival.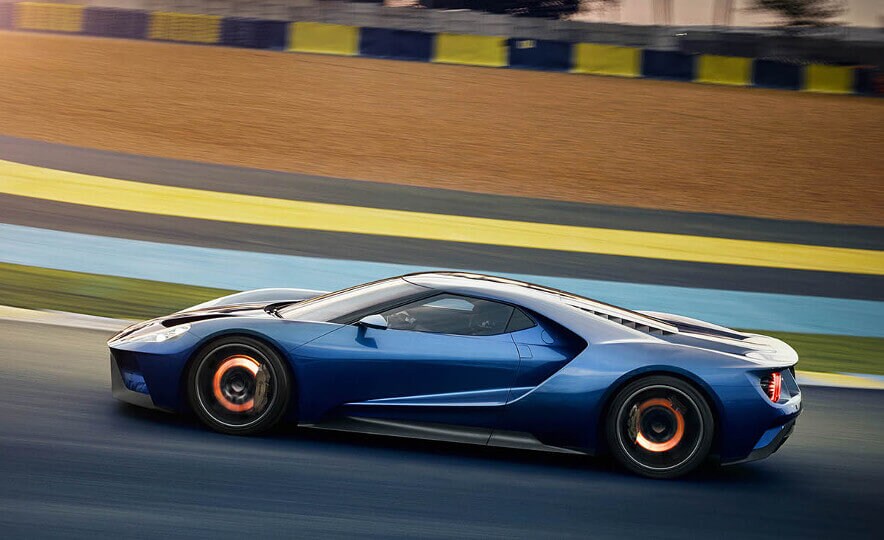 The 2016 Ford GT is expected to bring the power with a single engine. The 3.5L V6 engine in the GT will be a mid-engine, run by rear-wheel drive and placed just behind the rear wheels for an optimal weight-to-power ratio. The engine also features twin-twin turbo power, and uses air intake and direct gasoline injection for an incredible boost of speed when you need it. It uses EcoBoost technology to get more power with 20% better fuel efficiency and 15% fewer emissions than a similar vehicle without the EcoBoost system. This engine is slated to produce over 600 hp, a record for any Ford vehicle.
---
Design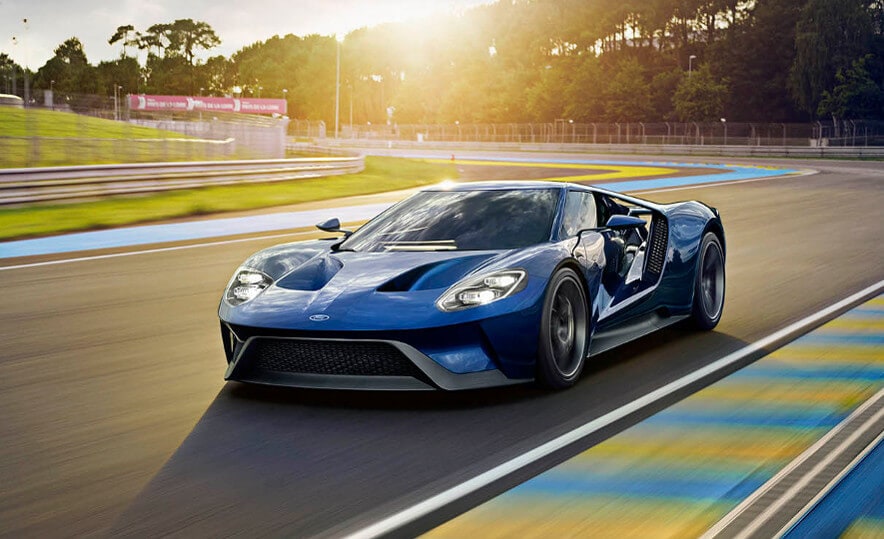 The 2016 Ford Mustang has a unique and classic look every sports car fan knows and loves. It's modeled after the classic Mustang fastback with a sporty, sleek build that integrates aerodynamic curves and lines into a recognizable and distinct body. The dual exhaust pipes and air extractor hood vents help the Mustang keep its cool, while the standard high intensity discharge headlamps and LED tri-bar taillamps improve visibility with a bright, clear light that uses a fraction of the energy traditional halogen lamps do. When you purchase the 2016 Mustang Convertible, you'll even get an electrically driven top that's designed to shield you from buffeting winds while giving you the open-air experience you crave.
The 2016 Ford GT is designed for a supremely aerodynamic experience. The shape of the GT was perfected in a wind tunnel to deliver the lowest possible coefficient of drag and wind resistance. The multi-functional buttresses add strength to the chassis and downforce to the drive, letting wind flow easily over the car. Ride height can also be lowered for better aerodynamics and an improved center of gravity on the track.
The rear wing is built into the aerodynamic fuselage design, so it enhances airflow even when it's not deployed. You'll also be able to change the shape of the rear wing to optimize the flow of air and get every ounce of power and performance the GT is capable of delivering. For superior performance, the GT brags a body forged from carbon-fiber - a strong, rigid, and lightweight material.
---
Performance Technology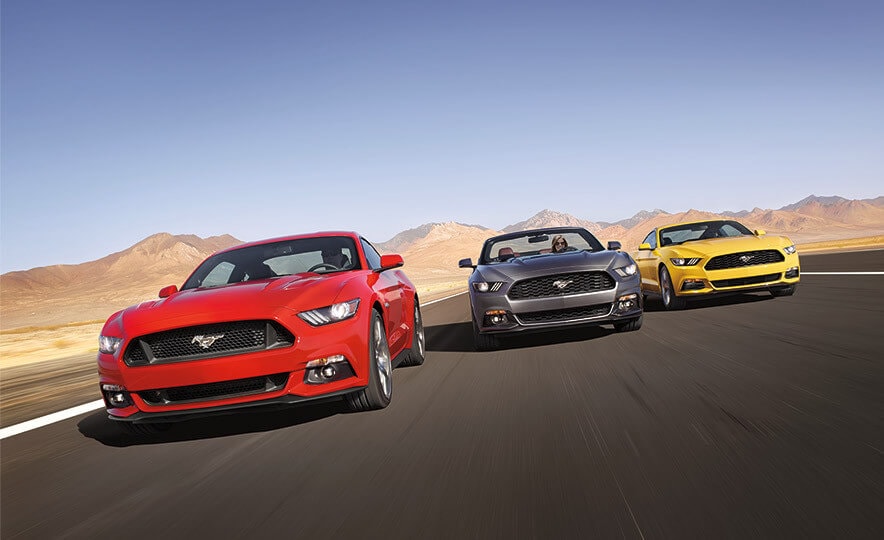 The 2016 Ford Mustang features hydraulic gas-pressurized, outboard-mounted shock absorbers that help shield you from rough terrain. You'll also get the Tracks Apps suite, which includes Launch Control and the Mustang GT-exclusive Electronic Line-Lock, which lets you warm your front tires and get up to gear without having to balance the brake and gas pedal. It integrates the brakes, traction control, and powertrain to make sure that start-ups are smooth and consistent every time. You'll also gain access to saved information about your acceleration time, brake performance, g-forces, and more.
---
Get Your Ford Performance Car
Ready to choose your next Ford performance car? Get your Ford Mustang or reserve your Ford GT with Arlington Heights Ford near Schaumburg today! Call us at (847) 870-1300 or come see us at 801 W Dundee Rd, Arlington Heights. Our sales department is on call from 9 a.m. to 9 p.m. Monday through Friday, and from 9 a.m. to 6 p.m. on Saturday.
---