Looking for the perfect, economical family vehicle for you and yours in the Arlington Heights and Schaumburg area? You might be trying to decide between the 2016 Ford C-Max, a hybrid hatchback, or the 2016 Ford Fusion, an affordable new family car that comes in hatch or sedan form. See which one is right for you with Arlington Heights Ford.
What Are You Looking For?
---
Power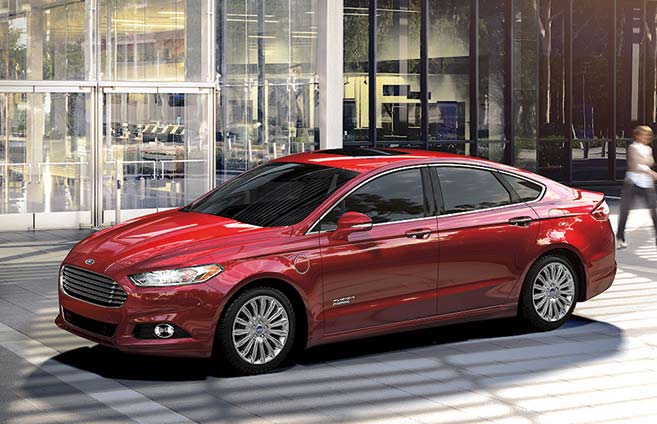 The 2016 Ford C-Max features a choice of hybrid or Energy power systems. The Hybrid system pairs a 2.0L Atkinson-cycle 4-cylinder engine to an AC permanent magnet synchronous motor. It uses sequential multi-point electronic fuel injection and a 1.4 kWh Li-ion battery to produce 141 hp and 129 lb-ft of torque. The electronic continuously variable transmission helps it get up to 42 mpg city, while the single chrome-tipped exhaust and catalytic converter mean it's classified as an ultra-low emission vehicle. The C-Max Energi has the same type of gasoline engine, but the larger 7.6 kWh Li-ion battery means that it can drive in electric mode alone for up to 19 miles at a speed of 85 mph, getting up to 95 mpg city.
The 2015 Ford Fusion has several different choices of gasoline engine that use a 6-speed SelectShift automatic transmission. The base engine is a 2.5L engine that produces 175 hp and 175 lb-ft of torque, getting up to 34 mpg highway. The 1.5L EcoBoost engine produces 181 hp and 185 lb-ft of torque, getting up to 36 mpg highway. The 2.0L gasoline engine is made for performance, producing an impressive 240 hp with premium fuel, as well as 270 lb-ft of torque. It gets 33 mpg highway. The Fusion Hybrid and Energi models come with a 2.0L gasoline engine, producing 141 hp and 129 lb-ft of torque.
---
Exterior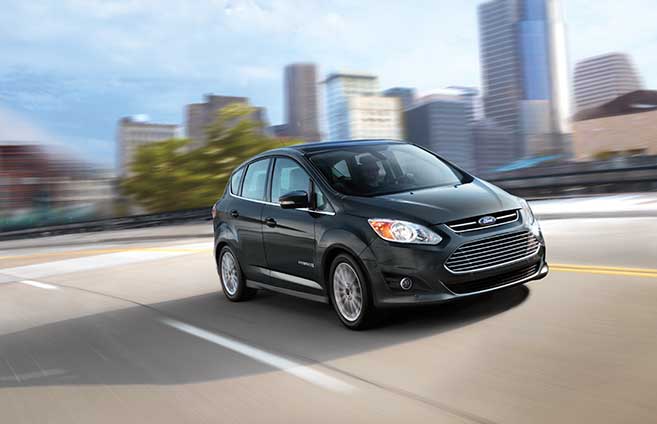 The 2016 C-Max is designed with a simple shape, helping you get the most performance out of your hybrid engine. The body is formed of fully galvanized steel for a sturdy, strong chassis. You'll love the foot-activated hands-free lift gate that activates when you wave a foot under the bumper, letting you load your gear with both hands, as well as the panoramic skylights. The rear lip spoiler helps you avoid turbulence for a smooth and steady ride, while the standard rain sensing windshield wipers provide you with great visibility even in the worst weather. Finally, the LED brake lights give you a bright and clear light that can be easily seen by cars in back of you.
The 2016 Fusion was designed to maximize aerodynamic performance, reducing wind resistance for a smooth and speedy ride. The composite steel chassis makes for a light body with the strength you need for safety, while the chrome grille adds a sophisticated touch. The auto-dimming side view mirrors make it easy to see the cars behind you even when the sun might be in your eyes, while the sliding and tilting first row sunroof lets in the natural light and the air. Choose from three different types of wheel to give your Fusion an expressive look.
---
Interior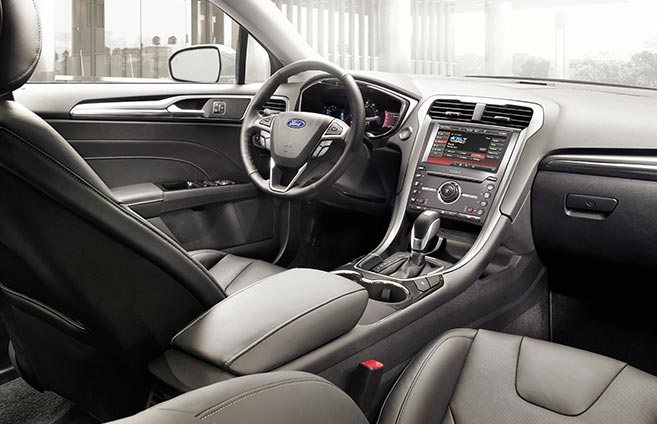 Inside, the 2016 C-Max includes a concealed storage sector that lets you hide your valuables. Where you'll really love the technology is on the dashboard, with the SmartGauge. This next-generation technology gives you all the information you need about how much energy you're generating and using, as well as showing you tips and graphs that will help you drive better and use less energy. You'll get two screens of personalized information about your car's statistics and energy usage with the MyView system, as well as LCD tutorials on driving and braking efficiency that will save you money on gas and electricity.
The 2016 Fusion features adaptive cruise control that makes it easy to cruise through traffic without causing a collision if the flow slows. The heated and cooled front seats feature 8-way power lumbar adjustment for your comfort in both the driver and passenger seats, while the 12-speaker audio system with an amplifier delivers premium sound. Available lane departure warning lets you know when you're drifting and helps you safely get back on track, while the visible blind spot sensor helps you avoid collisions from other vehicles you may not be able to see.
---
Get Your Ford Family Vehicle Today
Whether you choose between the eco-friendly C-Max or the convenient Fusion, you'll get the best of Ford's fantastic cars when you buy your next family car from Arlington Heights Ford! Call us today at (847) 870-1300 or come see us at 801 W Dundee Rd, Arlington Heights.
---