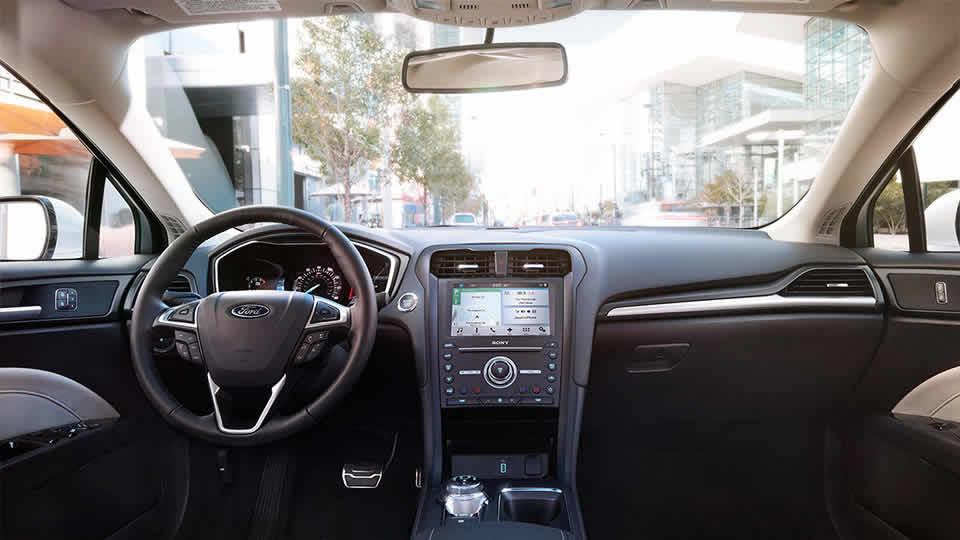 If you're looking for a car with plenty of eco-friendly options and advanced technology to keep you going around Arlington Heights, you'll love the 2017 Ford Fusion. It's one of the most technologically loaded cars you'll find around Schaumburg, with features that keep your fuel costs low and your capability high. Check it out from Arlington Heights Ford.
Ford Sync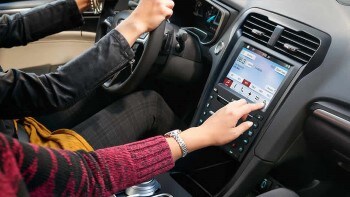 The 2017 Ford Fusion features Ford Sync 3, the latest version of Ford's great smartphone syncing technology. Ford Sync allows you to connect your smartphone to your in-vehicle app computer, so you can log in and load your favorite apps, media, and more. Listen to your media library or use apps like Spotify and IHeartRadio, safely check your social media with voice-to-text speech that can read out messages for you, and keep in touch with apps that let you check sports scores, weather, movie times, and even make restaurant reservations.
Sync 3 includes upgrades like enhanced voice-recognition technology with natural speech so you'll be able to easily give voice commands to your Sync system, as well as a larger LCD screen, enhanced interface, and even a more sensitive and quick responding 8-inch touchscreen. Opt for Sync Connect, and you'll be able to use your FordPass app to remotely access your vehicle's features, track your vehicle's location, check your vehicle's statistics such as mileage and gas, and more.
Satellite Navigation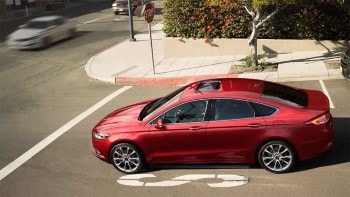 Ford's partnership with SiriusXM satellite services means you'll get one of the most advanced satellite services available in cars. Not only will you enjoy over 150 channels of premium satellite radio, you'll also get SiriusXM Travel Link services.
Enjoy in-vehicle navigation on an 8-inch touchscreen with swiping and pinch-to-zoom features, giving you turn-by-turn directions with up-to-date information about local traffic patterns, road closures, and even major metropolitan weather. You'll also be able to get stock prices, sports scores, and more via Sirius Satellite services.
Eco Tech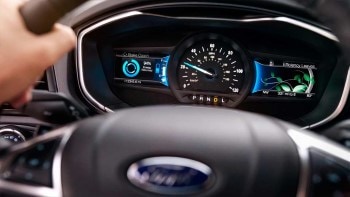 The 2017 Ford Fusion includes features that help you drive more efficiently and show you exactly what's going on in your car.
The SmartGauge with EcoGuide gives you real-time information to show you the performance of your Hybrid or Energi as you drive. You'll be able to see gauges for your li-ion battery and engine power, and see when your vehicle is using the most fuel or when it's just using the electricity you're able to generate from your car. You'll also be able to see how much energy you're using as you engage the gas and brake, showing you how to drive more efficiently and capably to maximize the range and power of your Fusion.
Regenerative braking is unique to your hybrid and Energi. When you press on the brake, the energy lost during braking due to slowing will be sent back to the battery. Over 94% of braking energy can be recovered in this way!
EcoSelect is a mode that ensures your vehicle will drive more efficiently, diverting as much available power as possible to charging and storage. You'll get trade-offs in climate control and engine behavior, but your Fusion will still be comfortable even as you save energy and money.
Get Your Fusion
Are you ready to get one of the most technologically advanced cars in Schaumburg? The 2017 Ford Fusion, Fusion Hybrid, and Fusion Energi are waiting for you at Arlington Heights Ford! Call us at (847) 870-1300 or come see us at 801 W Dundee Road in Arlington Heights.