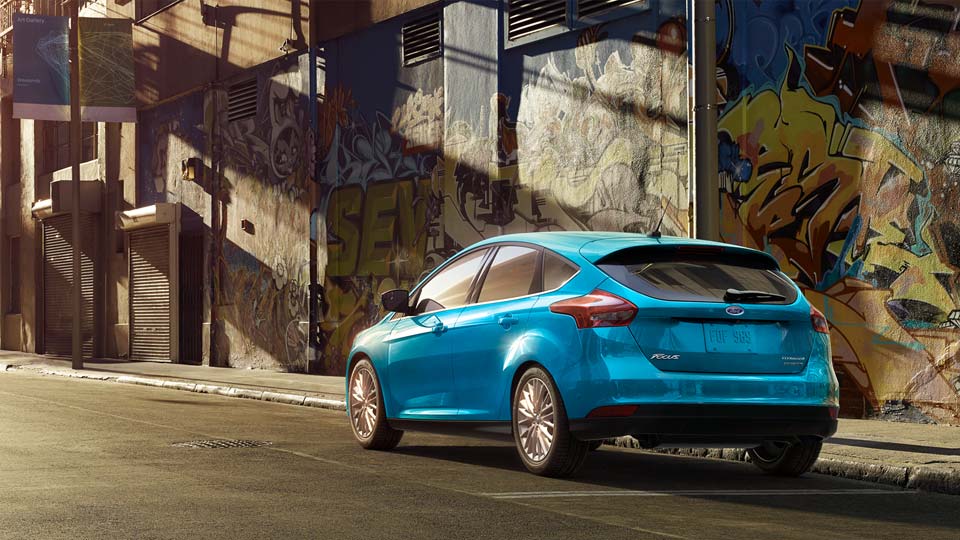 Looking for the perfect sedan that gives you plenty of choices to drive around Schaumburg? Whether you want a basic commuter car, a luxurious sedan, or a speedy performance car, you may be deciding between the 2016 Ford Focus and the 2016 Mazda3. Which vehicle gives you the choices you want with the performance you crave and the features you need? Check our handy comparison from Arlington Heights Ford.
Power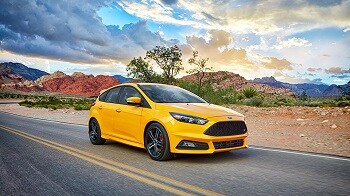 The 2016 Ford Focus gives you a choice of a standard engine, hybrid engine, and two performance engines. The base engine is a 2.0L 4-cylinder equipped with direct fuel injection and twin independent variable cam shaft, which produces up to 160 hp and 146 lb-ft of torque for power when you need it. It is paired with a 6-speed PowerShift automatic transmission that gets you up to 40 mpg highway.
You can also choose the hybrid engine, which uses a 1.0L 3-cylinder engine with Ti-VCT and EcoBoost technology that improves the compression ratio for lower emissions and better fuel efficiency without sacrificing power, getting up to 123 hp and 125 lb-ft of torque. Alone, this engine gets up to 42 mpg highway. The permanent magnet electric traction motor paired with this engine produces 143 hp and 184 lb-ft of torque at a time, and can get up to 110 mpge in the city.
You'll also get the option of Auto Start/Stop technology, which turns off the engine when your vehicle is idling to save on fuel and starts it up again easily when you press on the gas. You can also opt for the ST hatch's 2.0L 4-cylinder EcoBoost engine, which produces 252 hp and 270 lb-ft of torque, getting up to 32 mpg highway. The RS hatch uses a 2.3L EcoBoost 4-cylinder engine, which produces an impressive 350 hp and 350 lb-ft of torque. However, its fuel efficiency has yet to be determined.
The 2016 Mazda3 includes a 2.0L 4-cylinder engine. This engine uses a dual overhead cam shaft and variable valve timing with advanced direct fuel injection, producing only 155 hp and 150 lb-ft of torque. The upscale Touring models offer a 2.5L 4-cylinder engine with the same SkyActiv-G technology, which produces 184 hp and 185 lb-ft of torque while getting only 39 mpg highway.
Features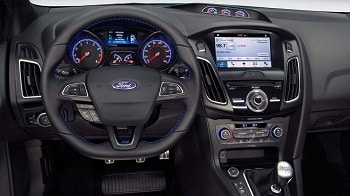 The 2016 Ford Focus has plenty of features for comfort, convenience, and connectivity that make it a great ride for you and your family. Not all of the same features are available on the 2016 Mazda3, and they may only be available as pricey extras if they are an option. See what you'll get when you choose the 2016 Ford Focus today:
 
Standard in-vehicle assistance system with Ford SYNC, which not only lets you sync up your smartphone or other mobile device with your in-vehicle computer, but also allows you to contact Ford advisors or emergency services when you're in need of roadside assistance.
The MyFord mobile app lets you monitor the status of your Ford Focus Electric, planning charge stops and mapping out trips so you'll be able to use your Ford Electric without being stuck in the middle of nowhere without a charge. Determine your vehicle's location, find charging stations, monitor and schedule charging, and lock and unlock your doors remotely with your mobile phone!
 
Ford MyKey is Ford's solution to a shared vehicle with young or beginning drivers. You can program the MyKey system with the volume and speed maximum you need to keep your teen safe while making sure they stick close to home with the geofencing system. Use the remote key fob to switch to restricted mode when you lend out your vehicle to a young person or a friend. It even has valet mode!
 
Standard cargo concealed storage and cargo tie downs in the back for keeping all of your gear tightly packaged and secure.
 
Two 12-volt DC power outlets for all of your smartphone or mobile device charging needs.
Front and rear one-touch power windows.
 
Standard driver information center with a water temperature gauge for immediate access to your vehicle's vital systems.
Premium buttery smooth leather-trimmed seats.
 
10 premium Bose speakers for concert quality sound in your Focus.
 
Two first-row LCD screens for easy access to your media, navigation, vehicle information, and more.
 
Get Your Focus Today
If you're ready to get into your 2016 Ford Focus, Arlington Heights Ford can help! Call us today at (847) 870-1300 or come see us at 801 W Dundee Road in Arlington Heights.