Looking for the perfect sedan that can offer you a choice of a luxurious commuter sedan, sporty performance car, premium family sedan, or a starter car for a young driver in Schaumburg? You might be trying to decide between the 2016 Ford Focus and the 2016 Honda Civic. Which of these cars can offer the power you love with the features you need at a price you'll be able to afford? Decide with Arlington Heights Ford!
Power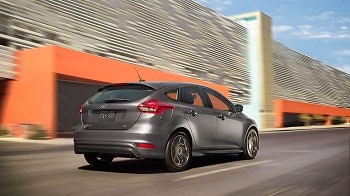 The 2016 Ford Focus offers one standard engine, one hybrid engine, and two performance engines. The 2.0L 4-cylinder engine uses a twin independent variable cam shaft timing system with direct fuel injection that produces an impressive 160 hp and 146 lb-ft of torque. The 6-speed PowerShift automatic transmission gets up to 40 mpg highway. The hybrid engine is a 1.0L 3-cylinder engine with a Ti-VCT system, while EcoBoost technology improves the compression ratio for better fuel efficiency and lower emissions without sacrificing power.
The permanent magnet electric traction motor produces 143 hp and 184 lb-ft of torque, while the gasoline engine produces 123 hp and 125 lb-ft of torque. The gas engine gets an impressive 42 mpg highway, while the full electric engine can get up to 110 city mpge. This engine also comes with Auto Start/Stop technology that turns off the engine when you're idling to save energy, and starts up again seamlessly when you press on the gas. The ST hatch includes a 2.0L 4-cylinder EcoBoost engine that produces 252 hp and 270 lb-ft of torque, getting 32 mpg highway. The RS hatch includes a 2.3L EcoBoost 4-cylinder engine that produces an incredible 350 hp and 350 lb-ft of torque.
The 2016 Honda Civic sedan features a choice of only two engines. The 2.0L engine produces 158 hp and a mere 138 lb-ft of torque, with a dual overhead cam shaft, multi-point fuel injection, and i-VTEC technology. The 6-speed manual transmission produces 40 mpg highway. The turbocharged 1.5L engine with a singe scroll turbo and internal waste gate produces only 174 hp and 162 lb-ft of torque, significantly less than the power of the Focus's upgraded engines. It's attached to a CVT that gets up to 42 mpg highway.
Features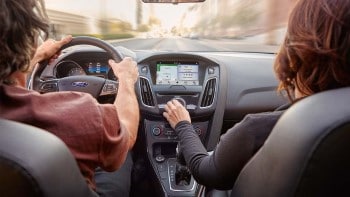 The 2016 Ford Focus includes plenty of features on every trim level that make your drive more convenient, more comfortable, and safer and more secure. Many of these features are only available for a pricey upgrade on the 2016 Honda Civic, and may not even be available at all for any fee. See what you'll be able to get when you get the 2016 Ford Focus:
Standard concealed cargo storage area with cargo tie-downs to keep your gear secure
 
Standard in-radio display of precisely timed clock
 
Leather gear shift knob trim
 
Two twelve-volt DC power outlets to charge your mobile phone and other devices
 
Mini overhead console with storage for your important papers
 
Front and rear power windows with one-touch up and down for a controllable climate
 
Driver lumbar support that keeps your back limber and strong while on long commutes or road trips
 
In-dash mounted single CD player with standard MP3 capability and auxiliary audio input
 
10 premium brand speakers for concert quality sound in your car
 
Two first-row LCD screens for your in-vehicle computer
 
Driver's knee airbags for your protection in case of collision
 
Standard parking assist system that uses scanner sensors to determine when there is an available parking space for your car and helps you steer into the parking space
 
Silver grille trim for a sophisticated and classy look
 
Payload capability of up to 827 lbs. of cargo at a time
Pricing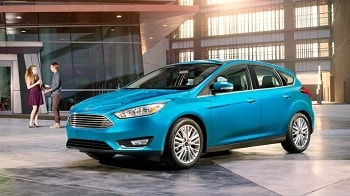 The 2016 Ford Focus starts at $16,100 for the base S sedan. Upgrade to the SE sedan with more features and the pricing stats at $17,390. The SE hatchback with 5 doors starts at just $17,390. The premium Titanium sedan starts at $22,100 with the Titanium hatch starting at $22,600. The sporty Focus ST starts at $23,800, while the track-ready Focus RS starts at just $36,775. Great prices for a premium performance car! The eco-friendly Focus Electric starts at $30,045.
The 2016 Honda Civic starts at $18,640 for the base LX sedan and can go up to as much as $20,440. The EX starts at $21,040, while the further upgraded EX-L starts at $23,700. The more luxurious Touring trim starts a whopping $26,500. The Honda Civic does not have a performance edition in either a sport or rally model.
Get Your 2016 Ford Focus Today
If you're ready to get into the 2016 Ford Focus today, Arlington Heights Ford can help! Call us today at (847) 870-1300 or come see us at 801 W Dundee Road in Arlington Heights.