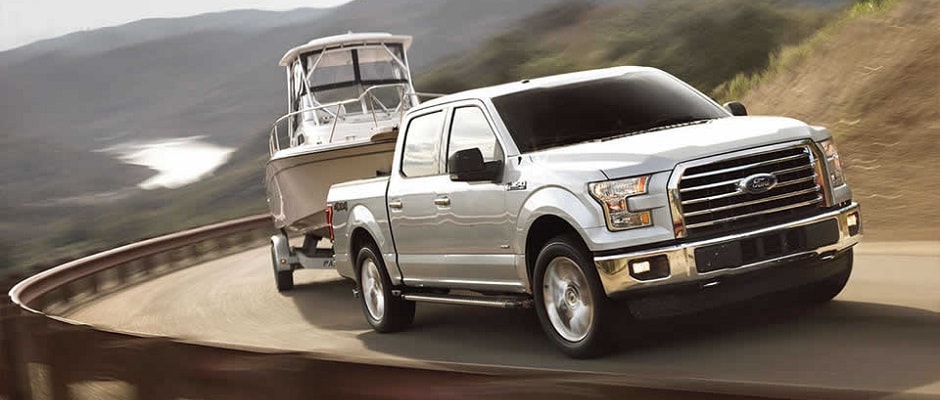 When considering everything you want in a pickup truck, you know that you'll need to put a lot of thought into choosing the right one. However, if you're comparing the 2016 Ford F-150 vs the 2016 Toyota Tundra, you won't have to waste too much time deciding. The new F-150 offers the best in performance, safety, and available features, completely knocking the Tundra out of the water. Take a look at what makes this vehicle a dominating force on the Arlington Heights and Schaumburg roads.
Power and Performance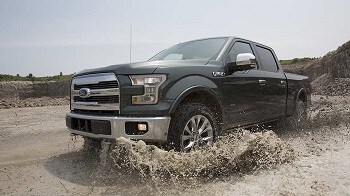 As a pickup truck, both the new F-150 and Tundra were designed to move quickly and haul heavy equipment. However, while they are both capable of doing these things, the F-150 does it all better.
The F-150 has better range of power than the Tundra. Engine options for this vehicle include:
3.5L V6 that generates 282 hp and 253 lb-ft of torque while getting 18 city mpg and 25 highway mpg
2.7L EcoBoost® V6 that delivers 325 hp and 375 lb-ft of torque while getting 19 city and 26 highway mpg
3.5L EcoBoost V6 that offers 365 hp and 420 lb-ft of torque while getting 17 city and 24 highway mpg
5.0L V8 that generates 385 hp and 387 lb-ft of torque with 15 city and 22 highway mpg
 
The Tundra only offers two engine options, and since they are both V8s, you can expect lower fuel efficiency on these vehicles too.
4.6L V8 engine that offers 310 hp and 327 lb-ft of torque
5.7L V8 that generates 381 hp and 401 lb-ft of torque
 
Even if you opt for the higher engine on the Tundra, you still won't experience the same power that you'll get with the F-150's 3.5L EcoBoost engine.
Towing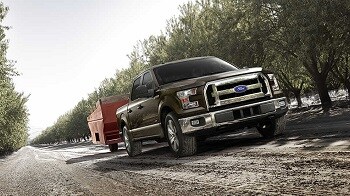 If you're choosing a pickup truck for the Arlington Heights and Schaumburg roads, chances are that you're going to want to haul something, whether for work or for play. If you want the best beast on the road, then you'll opt for the 2016 Ford F-150. The maximum towing capacity for the F-150 is 12,200 pounds while the maximum towing capacity for the Tundra is only 10,500 pounds. At the same time, the F-150 delivers a better payload capacity too, coming in at 3,250 pounds compared to only 2,060 pounds. So when you're in the market for a vehicle that will dominate hauling and towing, be sure to choose the Ford.
Features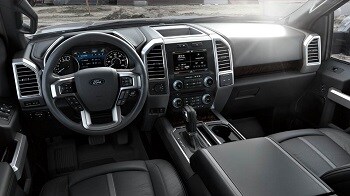 When you compare both of these vehicles, you'll find that you actually get more out of the F-150 than you do out of the Tundra. For instance, the latest Ford model has three unique features that you absolutely cannot find on the Toyota.
The F-150 includes a class-exclusive BoxLink, which features four lockable and removeable cleats, four interface plates, and reinforced box sides. This means that you'll not only be able to haul and tow more with the F-150, but you'll also keep all your items securely in place.
The Ford also offers a class-exclusive Pro Trailer Backup Assist. With this feature, you can easily manage moving your trailer while in reverse simply by turning a knob to the left or right.
Besides hauling, the F-150 offers more in technology too. This vehicle comes with SYNC® 3 technology. This state-of-the-art infotainment system connects your vehicle and your smartphone so you can access apps, stream music, and make phone calls. If you want a vehicle that keeps you connected, the Ford is the better choice.
Safety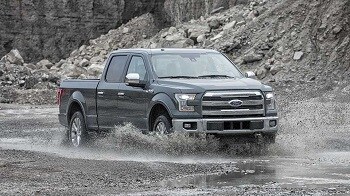 When you choose the F-150, you'll know you're getting a safe and reliable vehicle. The 2016 Ford F-150 earned a five-star safety rating from the National Highway Traffic Safety Administration. The Tundra? It only earned four stars. The F-150 also includes a fully boxed frame that is comprised of 78 percent high-strength steel. Plus, it includes 31 safety-related innovations. Basically, when you step foot in the cabin of the F-150, you should feel completely protected because this pickup was designed to give you peace of mind.
Visit Arlington Heights Ford Today
If you truly want to make a statement on the Arlington Heights and Schaumburg roads, then you need to visit Arlington Heights Ford today and snag a 2016 Ford F-150. This new model truly outshines the 2016 Toyota Tundra in terms of safety, available features, and performance, and it is certainly the vehicle you want by your side when at work or on a personal adventure. Visit our dealership today or contact us at 888.481.4800 to schedule your test drive and experience a different kind of pickup truck.