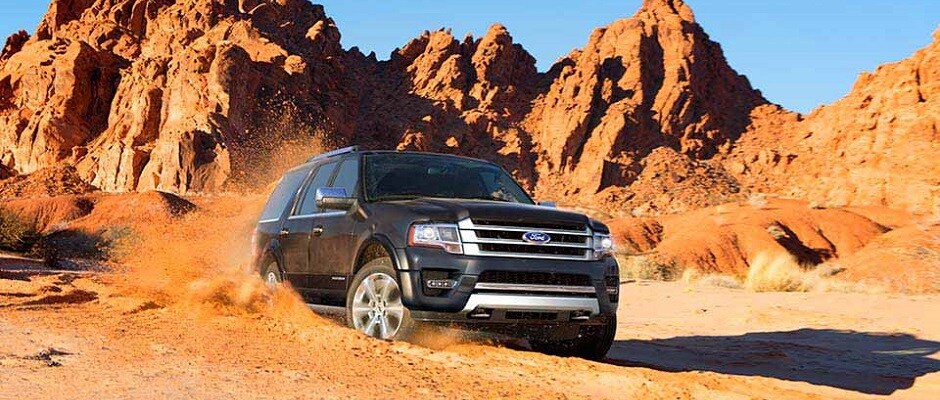 Before Schaumburg adventurers hit the road, they need the right SUV with enough power and cargo space to keep with their travels. When it comes down to it, many travelers, off roaders and general thrill seekers choose the 2016 Ford Expedition, but in Arlington Heights, the 2016 Chevrolet Tahoe is a close second. Why can't the Chevy Tahoe beat big brother Expedition?
Every SUV Owner Knows the Engine is Everything
What's one of the first questions anyone asks about an SUV? Usually, it's got something to do with the engine and the vehicle's overall power. The Chevy Tahoe has one thing on big brother: its EcoTec3 5.3L engine is a V8. The Ford Expedition has an EcoBoost 3.5L V6 engine, but in this case, leaner means more power.
The Expedition's smaller engine boasts 365 hp and 420 lb-ft of torque. What does the Chevy Tahoe bring to the table? Its engine can give you 355 hp and 383 lb-ft of torque. That's entirely respectable, but the Expedition's engine can give you give more.
Do You Think You Can Fill the Cargo Space?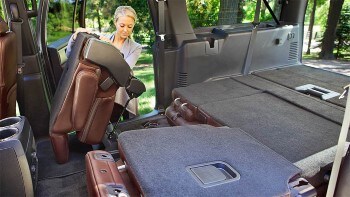 If you have an SUV, you've probably been the first point of contact for friends moving furniture. Admittedly, it's great to know you can fit your armoire into your own car, but you won't be able to fit it into just any SUV. The Chevy Tahoe gives you 94.7 cubic feet of space in its designated cargo area.
How much space can the Ford Expedition cargo area give you? To start, you'll get 108.3 cubic feet of space in your trunk. However, for those occasions when you need a little extra room, you can fold down the third row of seats to get a full 130.8 cubic feet of cargo space.
Which is the Towing Behemoth?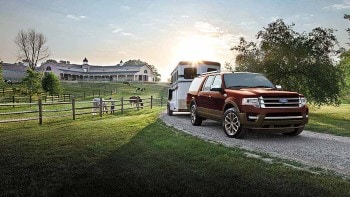 Towing hitches come standard on both vehicles, but you probably expected that, right? However, how much can each of these powerful SUVs pull? Starting with the Chevy Tahoe, you can expect a maximum towing weight of 8,600 lbs. For a dead weight hitch, the SUV can handle up to 5,000 lbs and a maximum tongue weight of 500 lbs.
How does the Ford Expedition compare? It's the best in its class with a maximum towing weight of 9200 lbs. As for the dead weight hitch, the Expedition can handle up to 6,660 lbs and a top tongue weight of 660 lbs.
Safety is Never Second With SUVs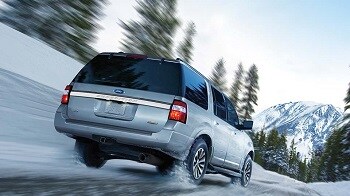 Especially for Schaumburg travelers and adventurers, safety is a top concern for you, your passengers and your camping supplies. The Ford Expedition received a 5-star rating for safety thanks to its 5 airbags and child locks as a standard feature. Whether you're tall, short or somewhere in between, you can adjust the pedals to a comfortable position, making it easier to control your Expedition.
How does the Chevy Tahoe compare? Even though the SUV has an extra rear side airbag, it has a 4-star safety rating. Child locks and adjustable pedals aren't standard features on this SUV, but like the Expedition, you do get:
Traction Control
Stability Control
Brake Assist
Multiple Airbags
Technology to Guide You Through the Back Roads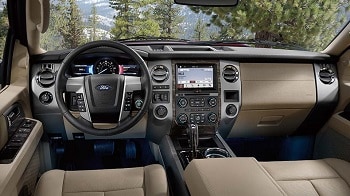 As far as internal technology, the Ford Expedition and Chevy Tahoe have comparable systems, but which is better? The Tahoe comes with MyLink, which has an 8-inch display. The color touchscreen can be customized. Pandora, map applications and internal calling systems are in place with the system. OnStar is available as an add-on, allowing for remote starts, locking and unlocking.
In response to MyLink, the Ford Expedition models offer voice activated SYNC, an internal car system. The lower option allows hands free calling, syncing of contacts, music controls and 911 assistance. The higher SYNC 3 options gives you a color touchscreen in addition to enhanced voice recognition. Plus, you can seamlessly integrate Siri.
What Features are Standard for Each Model?
It's the little bells and whistles that set apart a run-of-the-mill SUV from truly excellent machines. Add-ons and upgrades are always available, but if the stock model comes with it all, that car might be the best value. What comes standard with the Expeditions and Tahoes in Arlington Heights?
| Features | 2016 Ford Expedition | 2016 Chevrolet Tahoe |
| --- | --- | --- |
| Push Button Engine Start | x | x |
| 3rd Row Seat | x | |
| All-Terrain Tires | x | |
| Turbocharged | x | |
| Rear Wheel Drive | x | x |
| Power Steering | x | x |
| Luggage Rack | x | |
| Fuel Tank Capacity (gallons) | 28 | 26 |
| Miles Per Gallon (Highway) | 22 | 23 |
Experience the Expedition for Yourself
Do you know what's the best way to find out which car is the best for you? Come down to Arlington Heights Ford and take an Expedition for a test drive. If you want to get in touch with our professional staff, fill out our quick contact form and we'll get back to you right away!