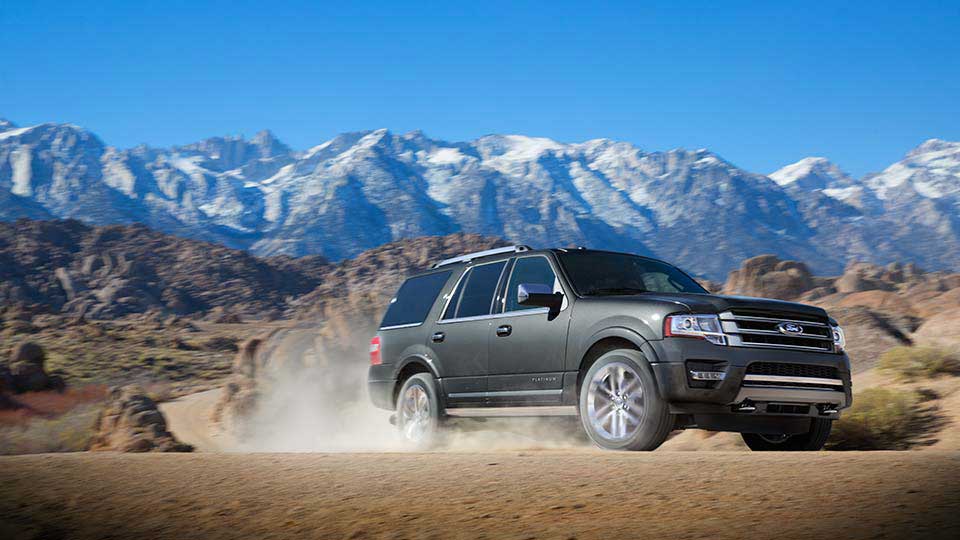 The 2017 Ford Expedition is one of the toughest and most powerful SUVs on the road in Schaumburg. Learn how much it can handle with Arlington Heights Ford.
Powertrain
The 2017 Ford Expedition features a powerful 3.5L EcoBoost V6 engine. EcoBoost technology uses turbocharging with natural aspiration to boost power and torque across the RPM spectrum, while the twin independent variable cam shaft timing enhances fuel efficiency by up to 20% and lowers emissions by up to 15%. Advanced direct fuel injection and twin air-to-air intercooled turbochargers mean you'll get the speed you need when you need it. This engine produces 365 hp and a best-in-class 420 lb-ft of torque.
Capability and Transmission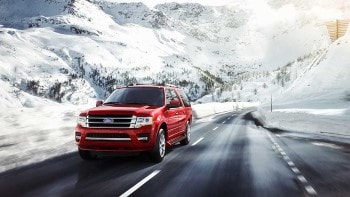 The 2017 Ford Expedition comes with an optional heavy-duty towing package, which boosts its towing capacity from 6,600 lbs. to an incredible 9,200 lbs. at a time! The 6-speed SelectShift automatic transmission is made to handle this kind of load, with wide-ratio gearing to maximize power and efficiency. The tow/haul mode reduces "gear hunting" when you're pulling a heavy load and compensates for weight and grade to reduce strain on the engine. Two driver-selectable modes include Full Manual, which gives you complete control over your shifting, and Progressive Range Select, which limits your gear range for consistent speed even over rough ground.
Traction and Control
The 2017 Ford Expedition is made to handily haul you and your cargo over the roughest terrain. AdvanceTrac with Roll Stability Control uses two gyroscopic sensors to determine when your vehicle is slipping, understeering or oversteering, or may be about to roll. When these situations are detected, it reduces engine power and applies the brakes selectively to get you back on track. Trailer Sway Control connects with the AdvanceTrac system to automatically adjust your trailer to maintain stability. Choose ControlTrac 4-wheel drive, and you'll get an intelligent 4-wheel drive system that uses super-fast software to send torque to wheels before you even start to slip. The limited-slip rear-differential detects slippage, and locks both rear wheels in tandem to help you keep control.
Suspension and Comfort
The 2017 Ford Expedition is the first Ford vehicle with a Continuously Controlled Damping System. This system uses a set of electronic sensors that continuously monitor your vehicle's braking, steering, and motion in order to detect rough roads and adjust the damping to give you a responsive ride without bumps or jolts. Choose Comfort, Normal, or Sport damping for rides that range from smooth to spirited. Choose the rear mechanical load-leveling suspension if you're planning to haul heavy loads; this system levels the chassis to correct handling, stability, and ride quality even when you've got a full cargo bay. Finally, the independent multi-link rear suspension lets all four wheels respond individually even to harsh road conditions for better stability and response.
Get the Expedition
Are you ready to explore Schaumburg with the 2017 Ford Expedition? Arlington Heights Ford can make it happen! Call us today at (847) 870-1300 or come see us at 801 W Dundee Road in Arlington Heights.