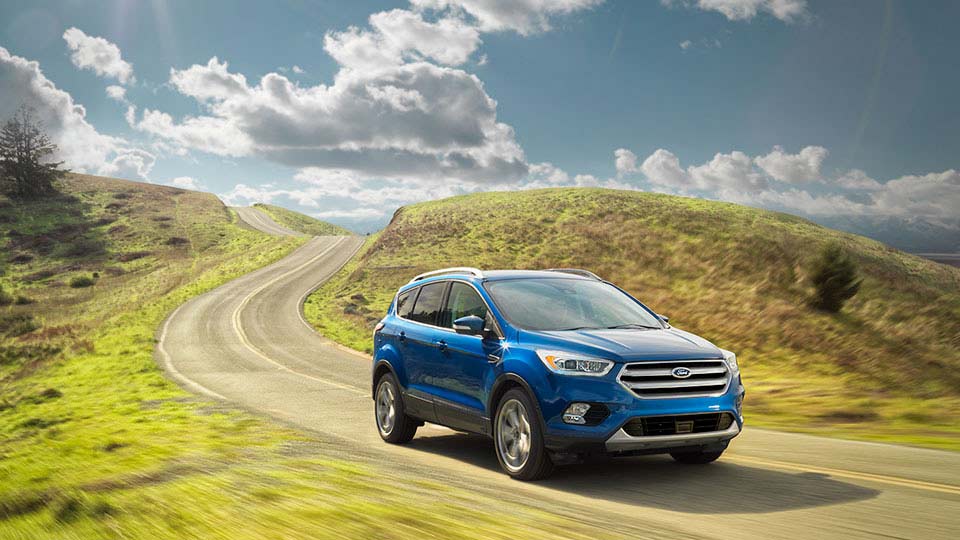 Crossover SUVs are a great choice for Arlington Heights and Schaumburg drivers. After all, you need a versatile vehicle that can easily handle the Midwest roads. Many drivers will find themselves comparing the 2017 Ford Escape vs the 2016 Mazda CX-5, however, they'll soon realize that it's not much of a competition. When you look at power, space, convenience, and eco-friendliness, the new Ford Escape is the better choice. Compare the vehicles below and see for yourself how the Ford stands up against the Mazda.
Power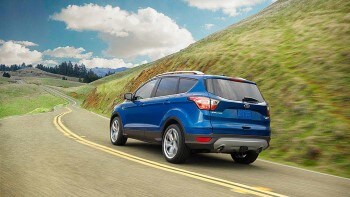 Handling the Midwest roads is easy when you opt for the Ford Escape. This new model gives you three different engines to choose from. First, you can enjoy the standard 2.5L i-VCT I-4 engine that delivers 168 hp and 170 lb-ft of torque and gets an EPA-estimated 22 city and 31 highway. You can also opt for the 1.6L GTDI EcoBoost that combines direct injection with turbocharging to generate 178 hp and 184 lb-ft of torque and an EPA-estimated 23 city and 32 highway mpg. Finally, for those seeking power, pick the 2.0L GTDI EcoBoost engine that offers 240 hp and 270 lb-ft of torque while still offering 22 city and 30 highway mpg. In addition, you will get all three of these engines with the six-speed SelectShift automatic transmission system.
As for the competition, you'll only enjoy two engine choices, and neither offers the type of power as the 2.0L Escape. For starters, you'll get the standard 2.0L SKYACTIV-G engine that offers only 155 hp. As an available option, you can choose the 2.5L SKYACTIV-G engine that will get you 184 hp. So basically, if you want a vehicle that will give you the power and performance you command, you're better off choosing the Escape.
Space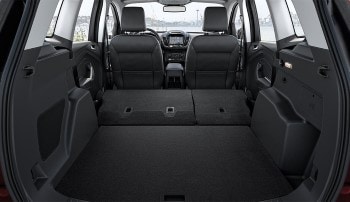 When you opt for an SUV, you want to be sure it comes with enough cargo space to fit your belongings. The 2017 Ford Escape gives you just a bit more than the Mazda CX-5, which makes it the better option. For starters, you will get 34.3 cubic feet behind the second row of the Escape while you'll only get 34.1 cubic feet of cargo space behind the second row of the CX-5. When you opt to fold the second row seats down, you'll expose 67.8 cubic feet of cargo space in the Escape while the CX-5 will only give you 64.8 cubic feet. Naturally, it makes sense to pick the vehicle that can fit everything you wish to haul.
Convenience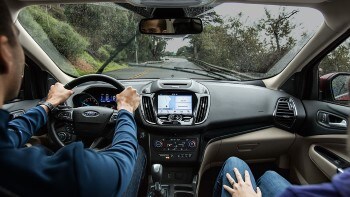 Having a vehicle that makes life easier is always a plus. The 2017 Ford Escape delivers some great convenience features that you'll love having with you while you drive. What's more is that none of these features can be found on the 2016 Mazda CX-5. For instance, the Escape comes standard with a 10-speaker premium audio system with a subwoofer so that you and your passengers can enjoy concert-quality sound when inside the cabin. In addition, the hands-free liftgate comes with an intelligent access key, so you can easily open the liftgate using your foot when standing behind the vehicle. This means no more fussing with keys. Finally, the Escape comes with Active Park Assist. Using sensors, this vehicle will monitor your surroundings and help you maneuver into and out of a parking spot. Once again, all of these features will make driving more convenient, and the CX-5 simply doesn't deliver.
Eco-Friendly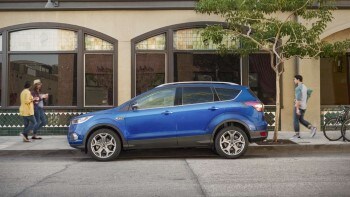 Being good to the environment is always a good idea, and the Ford Escape offers many eco-friendly features that prove it's a valuable vehicle when considering your carbon footprint. The cabin of the vehicle uses more than 10 pounds of recovered cotton. In addition, the carpet is made from post-consumer and post-industrial polyester fibers, which includes around 25 recycled 20-ounce bottles. If you want a green vehicle that gives you great power and convenient features, then the 2016 Ford Escape should be at the top of your list.
Choose Your Escape at Arlington Heights Ford
When comparing the 2017 Ford Escape vs the 2016 Mazda CX-5, you'll soon notice that it's not much of a competition. When you look at things like convenience, power, and eco-friendly features, the Ford Escape is a dominant vehicle. This is why you need to head to Arlington Heights Ford today so that you can bring one home to Schaumburg. Visit our dealership today at 801 W Dundee Road in Arlington Heights to see our full inventory. You can also contact us online or call us at 847.870.1300 to schedule a test drive or learn more about how this vehicle can do more for you than the competition.