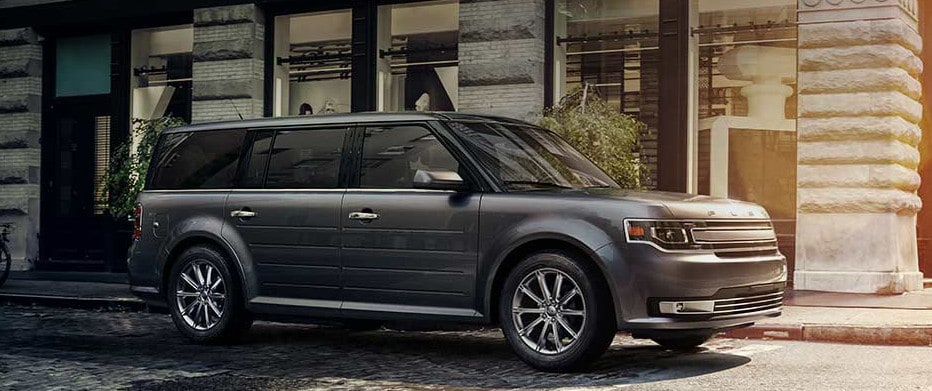 If you're looking for a spacious and powerful family vehicle that has all the features and capability you need, you might be thinking of buying an SUV crossover. You won't find better vehicles in the Arlington Heights and Schaumburg area than the 2016 lineup of Ford crossover vehicles. With their incredible power and comfortable features, you'll make the right choice for your family when you buy a Ford crossover at Arlington Heights Ford.
Ford Sync
When you buy a Ford vehicle with Ford Sync, you're getting an in-vehicle computer system that includes some of the most advanced telematics systems and apps in the automotive industry. Ford Sync® and Ford Sync 3® with MyFord Touch gives you features like:
Automated voice commands for most functions, so you'll never have to take your hands off the wheel or your eyes off the road
A four part touchscreen that lets you use standard mobile device gestures and keep track of your apps
Hands-free calling with your downloaded contacts list and Bluetooth phone streaming
SMS voice-to-text functionality so you can compose or receive text messages with safety
Music streaming systems like Bluetooth audio for your mobile device, Internet radio like Pandora and IHeartRadio, and Sirius XM satellite radio
In-vehicle destination search and GPS navigation systems with real-time updates on traffic, weather, gas prices, and more
Voice-activated climate control
Intelligent All Terrain Drive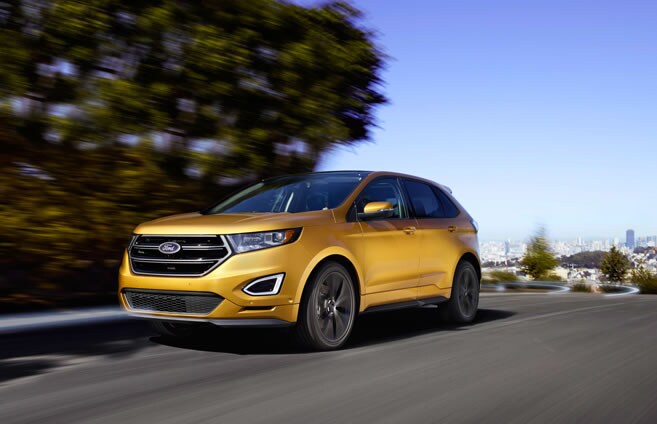 Ford SUVs and crossovers come with intelligent 4-wheel drive or intelligent all-wheel drive. But what does that mean? Most 4-wheel drive or all-wheel drive systems work by sending more torque and power to the front or rear wheels, depending on which setup is more advantageous to your car's handling. All-wheel drive systems have this capability activated all the time, while 4-wheel drive systems are only activated when necessary.
Intelligent 4-wheel drive or all-wheel drive uses a system of monitors to check traction and grip on all 4 wheels, as well as the torque and power required to drive, steer, shift, and more. These monitors check road conditions by the millisecond, constantly adjusting torque and power to each individual wheel in order to keep up with changing road conditions. This not only optimizes traction and road grip, but also improves handling and overall performance in any situation.
Ford Edge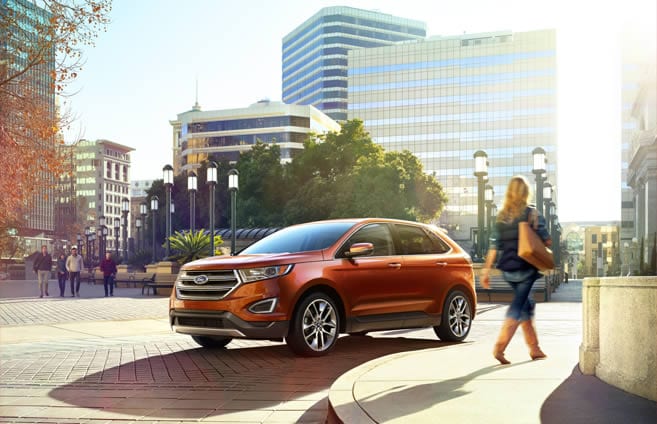 The 2016 Ford Edge is made to grab attention and drive in style. The smooth lines and fluid shapes are aerodynamically designed to reduce turbulence and create a memorable profile, while the wheels are set to the sides for an aggressive stance that means a stable drive. It's easy to control with Adaptive Steering, which manipulates the steering ratio to make sure that your steering is precise whether you're speeding down the highway or inching into a parking space.
The Edge also has an edge in performance. The 2.0L EcoBoost engine uses twin-scroll turbocharging to create lots of low-end torque for passing and acceleration maneuvers, producing 245 hp and an impressive 275 lb-ft of torque. It uses Auto Stop-Start technology to automatically shut down the engine while you're idling and seamlessly turn it back on when traffic starts up, saving you energy and getting an impressive 30 mpg highway.
Ford Flex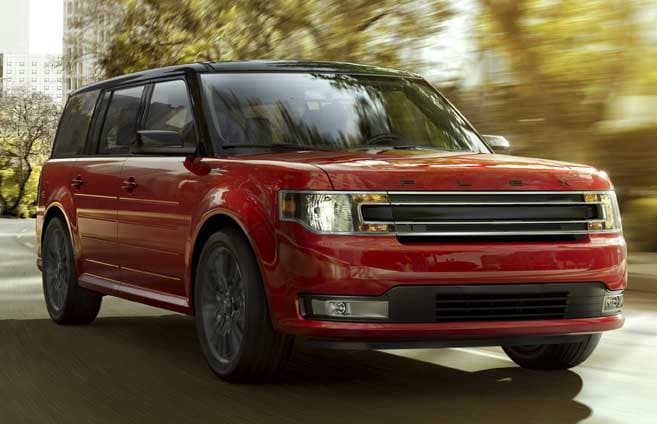 The 2016 Ford Flex is Ford's high-capability answer to a classic station wagon. Outside, the cubic silhouette reaches into the past with its old-school styling and distinctive body-side grooves, while the futuristic grille and wraparound windows give the Flex a modern look. Inside, this unique crossover has room for 7 on its spacious leather-clad bench seats, which fold down easily to provide up to 155.8 cubic feet of cargo space with the PowerFold Third-Row seats. You'll also get features like dual-zone electronic automatic temperature control to keep you and yours comfortable.
The Flex isn't just roomy and comfortable; it's also got great performance with plenty of control. The 3.5L EcoBoost engine produces an impressive 365 hp and 350 lb-ft of torque. The AdvanceTrac system with Roll Stability Control uses gyroscopic sensors to keep track of your vehicle's balance, reducing engine power and applying brake power to stabilize your vehicle around sharp turns.
Get Your Ford Crossover Today
If you're ready to choose your Ford crossover SUV that's just the right choice for you and your family, Arlington Heights Ford can help you make the decision! For a test drive of the 2016 Ford Edge or the 2016 Ford Flex, contact our sales staff at Arlington Heights Ford today. You can reach us at (847) 870-1300 or come see us at 801 W Dundee Rd, Arlington Heights.