We Welcome You to Our Finance Center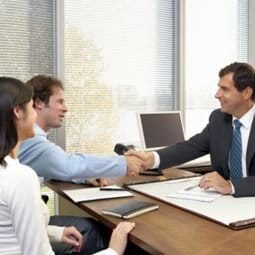 At Arlington Heights Ford, we offer a finance department dedicated to helping you get the auto loan or car lease terms you need to help keep your vehicle as affordable as possible. We are proud to help match you with the perfect financing terms so you can buy a brand new car. We can also help you get financing for used cars if this is more friendly toward your budget. We feature an online calculator that will provide you with an instant car loan quote that includes the best possible loan rate. Once you are satisfied with the results from this calculator, you can move on to filling out our convenient online application.
Save Time
When you take the time to fill out our online financing application, you can be sure you will save time when you do visit our dealership. You will eliminate the need to spend time sitting in our office, filling out this paperwork by hand and then waiting for our finance department to run the numbers and present your options. All of this is done through our simple online application so you can arrive at our dealership ready to check out the cars that fit within your budget and drive off the lot as quickly as possible. We won't waste your time because we understand how important this precious commodity is.
We Accept All Types of Credit
While most car dealerships expect you to have good or even stellar credit in order to qualify for affordable loan terms, this isn't the case at Arlington Heights Ford. We can provide loans for all types of credit, ranging from the good to the bad, so you can get the car loan you need to drive off in a new or used car. Our financing department works with you to secure loans, even if you don't have any credit history at all, giving you the chance to purchase a reliable car. We have strong relationships with a number of lenders and are committed to helping you find the perfect loan to suit your needs.
The Lowest Interest Rates Possible
If you already have a loan, you may qualify for a low-interest car loan. If you are considering refinancing your car or adjusting the existing terms of your contract, we are ready to help. Simply bring in your paperwork and your vehicle, and we will complete an assessment and run the numbers. We may be able to help you lower your payments and get your vehicle paid off more quickly. Once you are approved, you will feel more confident in your ability to pay for the car you already own.
If you're ready to get behind the wheel of your new or new-to-you car, visit us. We take great pride in treating our customers with respect and helping them find the right loan terms to meet their needs, regardless of the type of credit you have. You can have no credit, bad credit or good credit and still qualify for a loan.