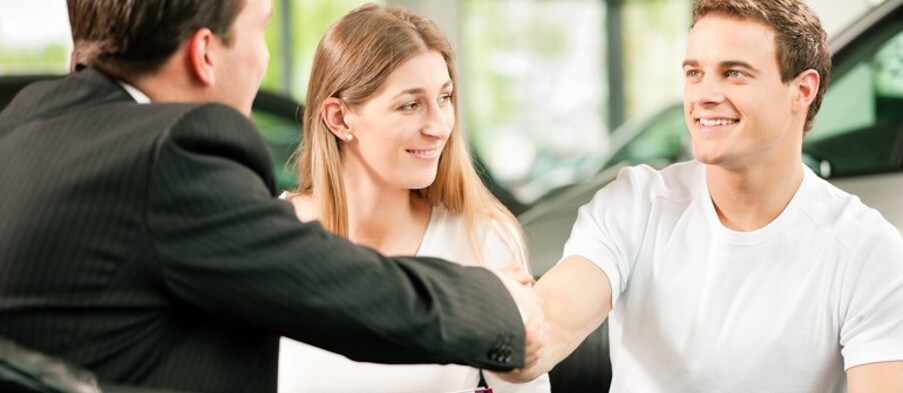 Auto Financing Near Rolling Meadows  
Are you looking for an amazing deal on an amazing car near Rolling Meadows? Arlington Heights Ford wants to help you pay for the car of your dreams! If you have bad credit and you're worried that you can't get a loan, never fear--we'll take care of you.
Why Arlington Heights Ford?
When you finance your car at Arlington Heights Ford, you'll be getting an unparalleled financial experience. Our team of financial experts wants to help you drive off the lot in the car of your dreams. We'll walk you through the financing process so you know exactly what you're paying for--no hidden fees, just great value for a great car. And we welcome those with low credit or no credit!
Any Credit Welcome
Do you have bad credit or no credit? It's no problem for us! Our team of financial experts is ready and willing to help you out. We can secure great loans for you from a number of national and local lenders at rates you can live with, no matter what your credit score is. Remember that even if you have a low credit score, paying off an auto loan on time and in full can help you build up your credit score and resurrect your ability to get other loans! At Arlington Heights Ford, we believe that everyone should be able to drive the car they need, no matter what their financial situation is. Don't be afraid or embarrassed--our financial team is used to working with people with all types of financial situations. We'll never just, we just help!
Buy or Lease?
Now that you've found your perfect car, do you want to buy or to lease? When you lease a car, you're paying a fraction of the total value of the car per month based on a prepaid calculation of how long you'll have it--it's like renting a car, essentially. You'll turn it in back to the dealership at a predetermined time, and then you'll have the opportunity to pick a new car and set up a new lease. It's easy! However, if you put too many miles on the car or too much wear and tear on it, you may be subject to additional fees. If you know that you're going to put a lot of miles or wear on a car, buying might be right for you. When you buy a car, your payments will be on a loan that equals the total value of the car. After you're done paying off the loan, the car will belong to you, free and clear! Whatever you decide, the financial staff at Arlington Heights Ford can help you choose.
Get Financed Today
If you're ready to start your journey to car ownership, call Arlington Heights Ford at (888) 781-4258 or drop by at 801 W. Dundee Road, Arlington Heights.