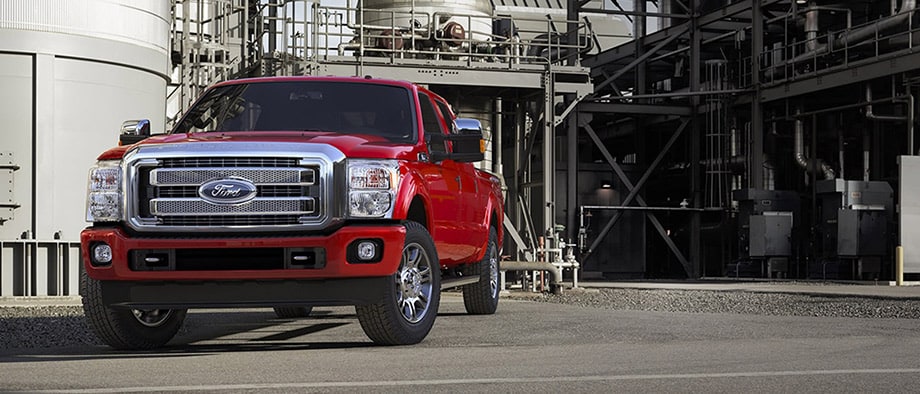 The 2017 Ford Super Duty is one of the most hotly anticipated vehicles in the Arlington Heights and Schaumburg area. It's slated to come with three different engines, and newly heavy duty components in the transmission, four-wheel drive system, and more. You'll get a body that's dent resistant and crash resistant, along with new features for safety and awareness. Check out this sneak preview from Arlington Heights Ford.
---
What Are You Looking For?
---
Powertrains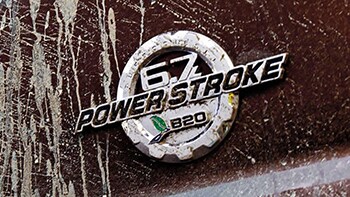 The 2017 Ford Super Duty Pickup will come with a choice of three different engines. The 6.2L engine is a V8. It uses gasoline or Flex Fuel, and can be modified to use natural gas or propane. You can also choose a 6.7L Power Stroke V8 diesel engine, which uses turbocharged fuel injection for a huge dose of horsepower and torque that beats out any other available engine. You can also choose a 6.8L gas engine, which can be fitted out to use natural gas or propane and is a V10 engine.
Each of these engines will be paired with Ford's six speed Torq Shift-G transmission, which is a unique transmission designed to handle intense torque and horsepower that these engines generate. It has a lower first gear ratio for more efficiency and durability, along with double overdrive for pulling heavy loads, and Ford's SelectShift technology. This is the first time this transmission has been paired with a gasoline engine.
While Ford hasn't released the figures for these engines yet, it's said that the Super Duty will have greater towing and hauling capacity than in any previous incarnation, as well as heavy duty components such as the four-wheel drive system, axles, driveline, and towing hardware.
TOP
---
Exterior and Chassis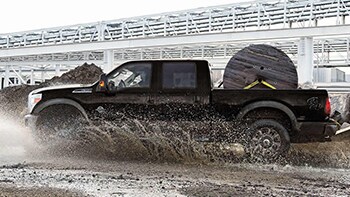 The 2017 Ford Super Duty has a familiar look with some fresh touches. The front fascia features the same two-bar main graphic grille with optional perforations and the overall futuristic look that you've come to love, with the headlamps moved closer to the fascia for uniquely shaped turn indicators that fold into the fenders. The oversized wheel flares blend in subtly with the rest of the body. The headlamps have been redesigned, with a quad beam set-up for different light levels, and a ring of LED driving lights surrounding each LED headlamp for perfect visibility. You'll also get features like a remote tailgate lock and release function that is integrated into your remote unlock key fob to make it easier to load cargo into your car from far away. You'll also get a BoxLink system, which is a set of custom cleats and metal brackets for your truck bed that makes it easy to secure your cargo.
The new Super Duty has a frame that's made of 95% high-strength steel, which is 24 times more rigid than the previous Super Duty. The body itself is constructed from military grade aluminum, which is not only more resistant to dents than the previous steel body, but also reduces the weight of the Super Duty by over 350 pounds.
TOP
---
Interior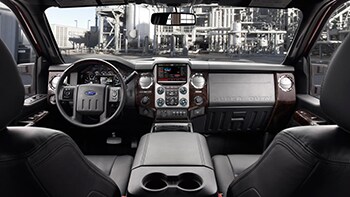 The new Super Duty will feature five trim levels. The XL, XLT, Lariat, King Ranch, and Platinum trim levels provide different features and levels of luxury for all of your towing and hauling needs. You can also choose from three cab configurations, with a regular cab, larger SuperCab, and a Crew Cab. The interior design has been refreshed for a new year with a fresh look and a cabin that's easier to maneuver. The auxiliary switches have been placed on the overhead console, while the trailer brake controller is closer to the driver for your convenience. If you choose one of the larger cabs, you'll get a flat floor in the second row so you can store even more cargo.
TOP
---
Features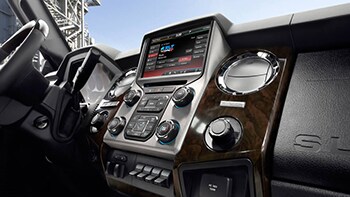 There are plenty of features to help you maneuver your 2017 Ford Super Duty truck. The adaptive steering works with your driving speed to reduce the amount of input needed to steer the wheel at low speeds and reduce sensitivity at higher speeds, making it safer to steer without over steering or under steering. Safety features include up to 7 different cameras, as well as high definition cameras that provide a bird's eye view. You'll also get options such as adaptive cruise control with automatic braking, as well as a lane departure warning system and in-cab tire pressure monitoring.
TOP
---
Get the Ford Super Duty
The 2017 Ford Super Duty isn't out on lots yet. But when it's commercially available, you can bet that Arlington Heights Ford will carry it! For more information on this or any other current or upcoming Ford vehicle, contact us today. You can call us at (847) 870-1300 or come see us at 801 W Dundee Rd, Arlington Heights.
*2016 model shown.