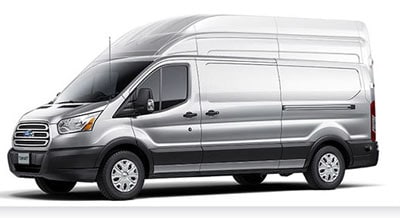 Are you looking for a work or commercial van to use for your Arlington Heights or Schaumburg-area business? The 2016 Ford Transit is built Ford tough to carry large loads with plenty of comfort and room for you and your passengers. Find your 2016 Ford Transit at Arlington Heights Ford!


What Are You Looking For?
---
Price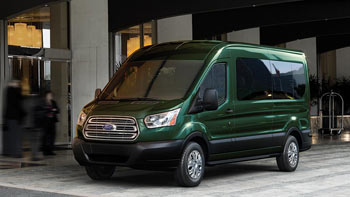 The base 2016 Ford Transit starts at $31,655, the passenger wagon XL starts at $33,870, and the top-of-the-line Transit passenger wagon XLT starts at $35,165.
TOP
---
Performance Specs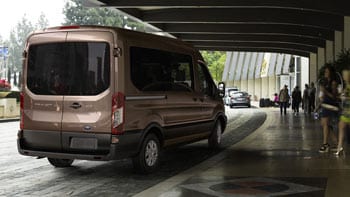 You can choose three different engines for your 2016 Ford Transit.
   
3.7L V6: Standard power on the 2016 Ford Transit comes from a 3.7L V6 engine with twin independent variable camshaft timing, allowing the van to operate at the best settings for fuel economy and power output. It gets 275 hp and 260 lb-ft of torque, and uses sequential multiport electronic fuel delivery for fast response times. The transmission is a six-speed automatic SelectShift with overdrive.
   
3.2L V6: For more energy efficiency, choose the 3.5 V6 engine with EcoBoost technology. This powertrain puts out 310 hp and 400 lb-ft of torque and uses direct gasoline injection with dual turbochargers.
   
3.2L Straight-Five Diesel: Opt for the 3.2L straight-five diesel engine, which produces 185 hp and 350 lb-ft of torque, to haul heavy loads. It uses high-pressure common rail direct diesel injection, and the engine block is made out of cast-iron for durability.
TOP
---
Interior Options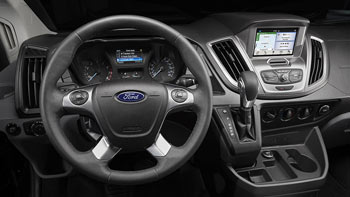 There are plenty of options to customize the space and size of your 2016 Ford Transit. You can choose from a wagon, which is made for transporting people, or a van, which is made for transporting cargo.
   
Regular Wheelbase: This setup allows you to choose from a low or medium roof, and on the passenger wagon you'll be able to choose between a three-row setup for eight people or a four-row setup for 10 people. The cargo van gets you 246 cubic feet of cargo space with the low roof and 315 cubic feet with the medium roof, which carries over into anywhere from 39 to 125 cubic feet of cargo space in the passenger wagon with all seats taken.
   
Long Wheelbase: This configuration again provides your choice of roofs. On the passenger wagon, you can choose from four rows of seating for 12 people, or five rows for 15 people, with anywhere from 70 to 93 cubic feet of storage space with all seats taken. The cargo van allows for 277 cubic feet of storage space with the low roof, 357 cubic feet with the medium roof, and 404 cubic feet with the high roof.
   
Long Extended Wheelbase: Only coming with a high roof, the passenger version on this van offers five rows of seating for 15 people and 100 cubic feet of cargo space with all seats occupied. The cargo van provides you with 487 cubic feet of storage space.
TOP
---
Trims and Features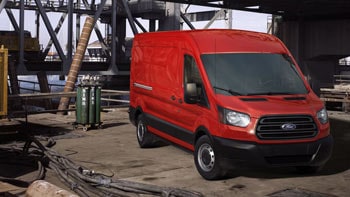 The introductory 2016 Ford Transit XL gets you either 60/40-split hinged passenger side doors or a sliding passenger door on the wagon. This trim comes with full power accessories and air conditioning for driver comfort, as well as a six-speaker audio system and a rearview camera for safety. Upgrade to the XLT, and you'll get convenience features like rain-sensing windshield wipers and wheel covers, as well as cruise control.
Plus, there are plenty of optional and service packages for the 2016 Ford Transit, as well as stand-alone options. The Builders Prep package adds a heavy-duty alternator, dual heavy-duty batteries, and special wiring for serious hauling and towing. You can also get the RV Prep package for the XLT, which adds options that make the XLT a suitable choice for fitting out with an RV modification set.
Stand-alone options range from different window configurations and axle ratios for customization to features like extended side mirrors and auxiliary fuse panels. You can also get a heavy-duty towing package, along with luxuries like leather upholstery. Safety features include a lane-departure warning system, and additional convenience features include gadgets like the Ford Sync 3 system with navigation and voice control.
TOP
---
Reviews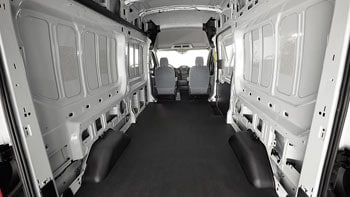 Top auto critics can't say enough good things about the 2016 Ford Transit.
   
Edmunds: "Introduced just last year, the Transit breaks from historic norms with its bright and open interior, excellent visibility, comfortable seating and refined ride quality. Make no mistake, this van can still roll up its sleeves and get to work: You can still haul up to 15 passengers or tow up to 7,500 pounds. It's just a whole lot more pleasant to pilot than its predecessors."
   
Car and Driver: "...for those with transportation needs of epic proportions, there is still no substitute. And right now, the Transit is the van that knocks us out."
TOP
---
Try Out the 2016 Ford Transit at Arlington Heights Ford
Are you ready to invest in the Transit? Visit Arlington Heights Ford at 801 W. Dundee Rd. in Arlington Heights, IL, or give us a call to learn more.
TOP
---