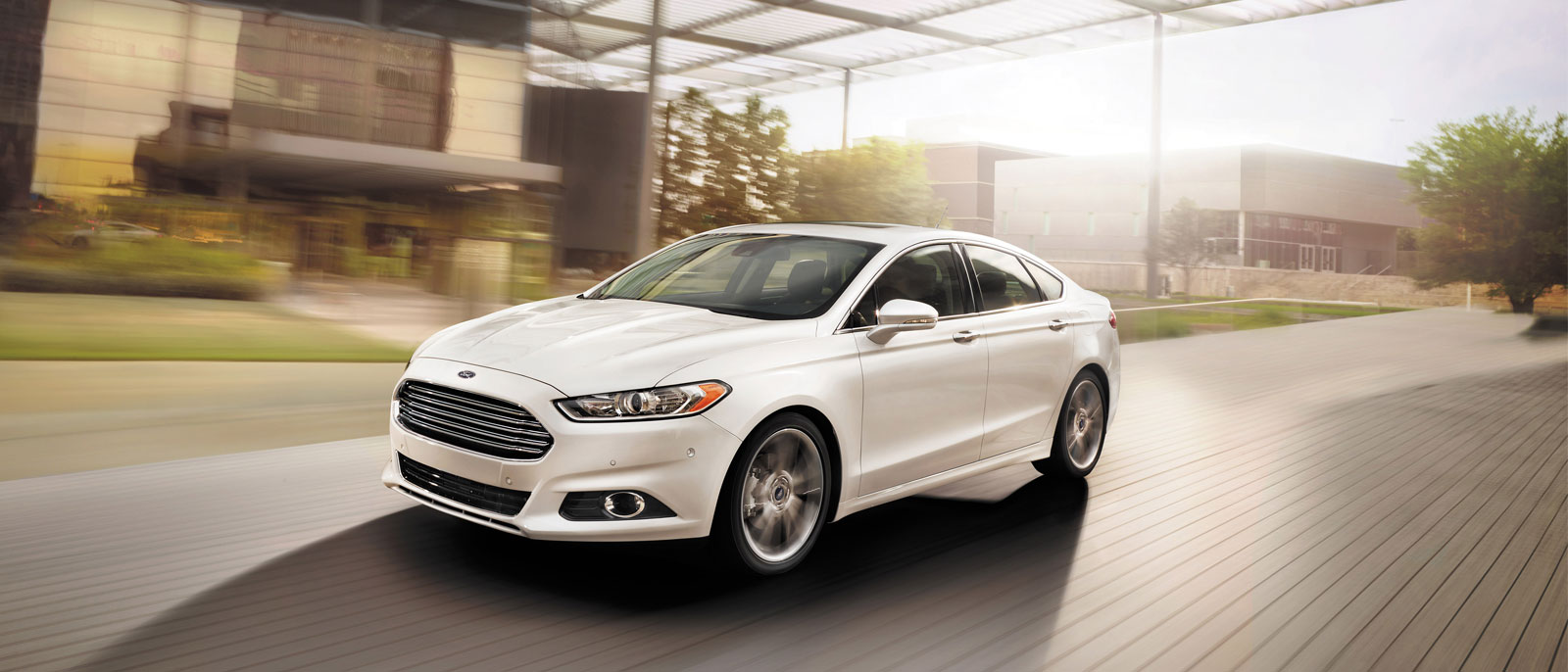 No matter what you're looking for in a sedan, chances are you'll find it in the 2016 Ford Fusion. From its wide range of high-performance and fuel-efficient powertrain choices to its sophisticated, quiet, and well-equipped cabin, it's tough to find more for your money in this segment. Buyers may be tempted to check out other models, including the 2016 Mazda6, but a little research proves the 2016 Ford Fusion's superiority.
Engine Power and Choices
Whether you're interested in choosing a car that has more options or looking for the one with the most output, the 2016 Ford Fusion should be your pick.
2016 Ford Fusion Specs: The base engine on the Fusion is a 2.5L four-cylinder that gets a balanced 175 hp and 175 lb-ft of torque. Upgrade to the 1.5L turbocharged inline-four bump those numbers to 181 hp and 185 lb-ft of torque. Max power comes from an inspired 2.0L turbocharged four-cylinder that gets a robust 240 hp and 270 lb-ft of torque. There are also hybrid and plug-in hybrid options of the Fusion available.


2016 Mazda6 Specs: The only setup on the 2016 Mazda6 is a 2.5L four-cylinder engine that gets 184 hp and 185 lb-ft of torque. There's no hybrid option available, which means lower available fuel economy.
All-Wheel Drive
The 2016 Ford Fusion offers an available AWD system on all models equipped with the 2.0L engine. This means safer handling in a wide variety of conditions and a more fun performance when you want it. The 2016 Mazda6, however, doesn't offer all-wheel drive.
Safety Features
When it comes to advanced safety features, the 2016 Ford Fusion is an excellent choice in a midsize family sedan. Every model is equipped with the advanced Ford Sync system, which comes with an emergency crash notification system that automatically contacts 911 in case of an accident. There's also an available Ford MyKey system that lets you set geographic, stereo volume, and other boundaries that let you control your teen driver's habits.
While the Mazda6 offers an available crash notification system, it isn't standard on the base model. In addition, no limits can be placed for teen drivers.
Interior and Trunk Space
If you're looking for more space for your passengers and room to pack up for a big trip, choose the 2016 Ford Fusion. Interior passenger volume on the Fusion stands at a spacious 118.8 cubic feet, while the trunk offers up more than enough cargo space at 16.0 cubic feet. The interior of the 2016 Mazda6 has less space than the Fusion with only 114.5 cubic feet, and the trunk proves a little cramped at 14.8 cubic feet.
Get Everything You Want from the 2016 Ford Fusion
The 2016 Ford Fusion is on sale now at Arlington Heights Ford, and we have a huge selection of every trim and color you can imagine. Contact us at (888) 781-4258 with questions, or stop in and see us at 801 W. Dundee Rd. in Arlington Heights!