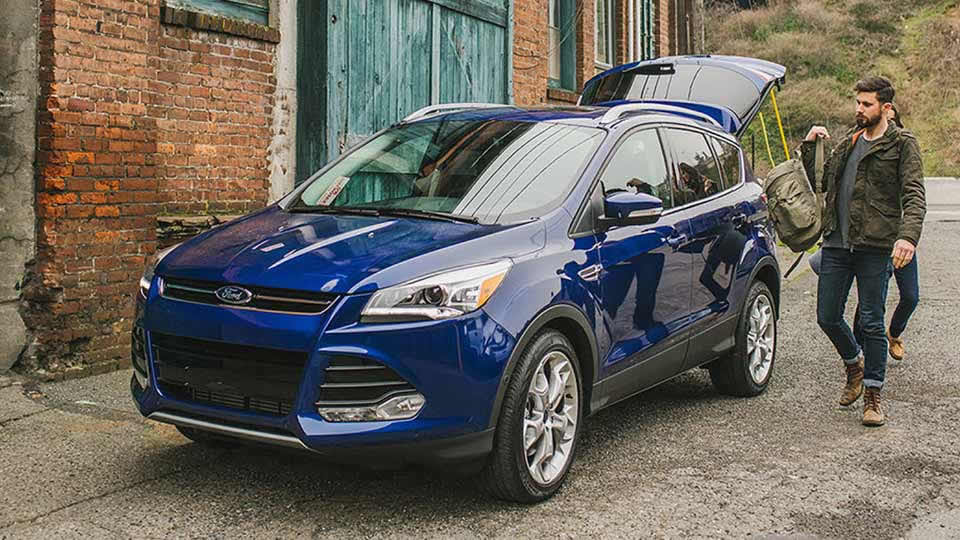 A leader in the small crossover SUV segment, the 2016 Ford Escape provides sporty driving dynamics, a cozy interior, and high-tech features for both entertainment and convenience. You can expect the premium performance of a full-size utility vehicle, but also the high fuel economy of a compact sedan. Another competitor in the class is the 2016 Hyundai Santa Fe, but when you pit the two head-to-head, the 2016 Ford Escape proves itself the clear winner. Take a moment to see why and then head to Arlington Heights Ford to experience it in person.
Lower Starting Price
If you want to save money right off the bat while still getting a high-quality vehicle, your best bet is the 2016 Ford Escape. In fact, you'll pay over $7,000 less if you purchase the Escape.
2016 Ford Escape Price: MSRP from $22,960
2016 Hyundai Santa Fe Price: MSRP from $30,400
Better Fuel Economy
If you want to extend your budget even further when you hit the pump, then you better choose the 2016 Ford Escape, because you'll get the most bang for your buck every time you fill your tank. EPA estimates for its 2.5L four-cylinder engine are 22 mpg city and 31 mpg highway, while the 1.6L four-cylinder powertrain achieves up to 32 mpg highway. A final 2.0L four-cylinder guarantees you up to 30 mpg highway. Meanwhile, the 2016 Hyundai Santa Fe's 3.3L GDI V6 gets no more than 25 mpg highway, highly unimpressive numbers compared to any of the Escape's offerings.
Premium Performance
Not only does the 2016 Ford Escape prove more fuel efficient than the 2016 Hyundai Santa Fe, but it also provides an overall better ride thanks to precise steering and quick reflexes. Plus, the Escape drives like a sporty hatchback while maintaining the height of an SUV, guaranteeing a commanding view of the road before you. The Santa Fe's size disrupts its driving capabilities, as it makes it difficult to maneuver at times. What's more, the Santa Fe doesn't have a sport-tuned suspension to compete with the Escape.
More Cargo Room
Despite the designation of being a small crossover SUV, the 2016 Ford Escape can pack plenty of cargo inside, perfect to load all of your gear for any trip. When all five seats are occupied, you still have 34.3 cubic feet of dedicated cargo volume. The 2016 Hyundai Santa Fe, on the other hand, offers up a measly 13.5 cubic feet of space for cargo.
Find the 2016 Ford Escape at Arlington Heights Ford
Once you agree that the 2016 Ford Escape is the superior vehicle, make your way to Arlington Heights Ford at 801 W. Dundee Rd. in Arlington Heights, IL to take it for a spin. You can always contact our sales staff with any questions about the latest Escape model before your visit!