The Fully Redesigned 2015 Ford F-150 is Now Available at Arlington Heights Ford
The iconic Ford F-150 pickup truck has been redesigned for the 2015 model year, and there are a lot of changes that drivers should know about. This pickup is lighter and more fuel efficient than ever before while still being tough, strong, versatile, and capable. Visit Arlington Heights Ford near Schaumburg, and discover how this next-generation work vehicle blends the principles of the past with the technology of the future.
2015 Ford F-150 Price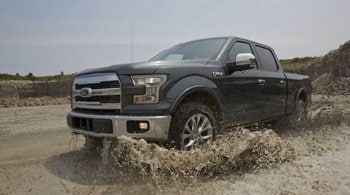 The 2015 Ford F-150 is available at a wide range of price points depending on what kind of features and what body style you want. There are options that fit easily into a modest budget, and also premium-quality trims available for drivers that are willing to pay for the very best inside and out. Here are a few examples of the wide range of pricing options available:
2015 Ford F150 XL: $25,420
2015 Ford F-150 XLT: $30,695
2015 Ford F-150 Lariat: $38,685
2015 Ford F-150 King Ranch: $48,495
2015 Ford F-150 Platinum: $50,960.
2015 Ford F-150 Specs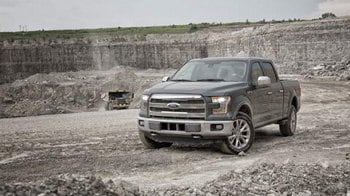 The F-150 has always been prized for its ability to haul, tow, climb, and endure as well as any pickup on the market. The newest F-150 is no different, and thanks to some impressive powertrain upgrades, this is easily the most capable build Ford has ever produced:
3.5L V6: The new model features a strong base engine capable of 283 hp and 255 lb-ft of torque.
2.7L Turbo V6: Thanks to advanced turbocharging technology, this smaller engine can stay efficient while producing a hefty 325 hp and 375 lb-ft of torque.
5.0L V8: This big, naturally aspirating V8 gives drivers access to a solid 385 hp and 387 lb-ft of torque.
3.5L Turbo V6: This bigger turbo V6 produces 365 hp and 420 lb-ft of torque.
Transmissions: All engines come with a six-speed automatic transmission that can be switched between sport and tow/haul modes.
Towing Capacity: Towing capacity starts at 7600 pounds and ranges all the way up to 12,200 pounds
Payload: There's no need to worry about carrying a big load in your bed as the F-150 can take a payload of up to 3300 pounds.
2015 Ford F-150 Aluminum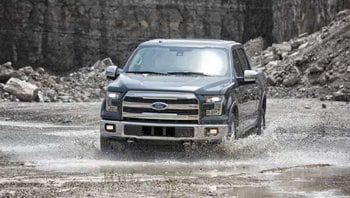 That all-new 2015 Ford F-150 might not look drastically different than the previous 2014
Ford F-150
, but that is because the most radical change is built into the very structure of the truck. Light-weight and durable aluminum is now being used in the construction, which shaves almost 700 pounds off the overall weight.That makes the vehicle far more fuel efficient, and thanks to smart engineering and careful design, the performance and capabilities of the vehicle haven't declined at all. Imagine doing everything you do with the truck you have now but getting this as high as 19 mpg city and 26 mpg on the highway.
Trims and Features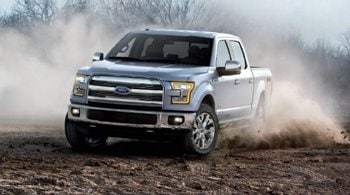 One of the best parts about the 2015 Ford F-150 is its diversity. This truck can be used for both work and pleasure, thanks to a number of incredible trims. Here's a look at the major features for each of the main trims:
2015 Ford F-150 XL: The base XL mode gives drivers 17-inch steel wheels, air conditioning, and a six-speaker stereo with a 4.2-inch display screen. Options for the main trim include automatic headlights, full power accessories, Ford Sync, Bluetooth connectivity, and many more.
2015 Ford F-150 XLT: All of the options on the XL come standard on the XLT, as well as 17-inch alloy wheels, foglights, chrome exterior trim, and extra cabin storage. Options include heated mirrors, a trailer hitch, eight-way power driver's seat, a rearview camera, and remote engine start.
2015 Ford F-150 Lariat: The Lariat trim comes standard with rear parking sensors, heated front seats, 110-volt power outlets, and the Ford MyTouch interface with an eight-inch touchscreen. Options include LED headlights, automatic high beams, a ten-speaker stereo, and adaptive cruise control.
2015 Ford F-150 King Ranch: Almost all of the features and options mentioned above come standard at this trim, as well as advanced safety protections like lane keeping assist, and interesting features like power retractable running boards. This trim also has updated styling with a Western flair.
2015 Ford F-150 Platinum: The platinum trim has essentially the same features as the King ranch but the updated design favors more of a contemporary, urban styling.
Body Styles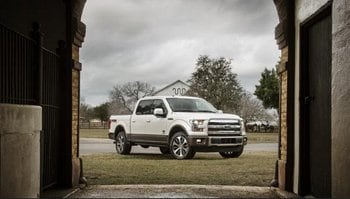 The 2015 Ford F-150 is available in a wide range of body styles and configurations so you never have to worry about having the space and seating for a work crew, a family, or a group of buddies. For the cab, you can choose between Regular, Extended (Supercab), Crew Cab (Supercrew). There are also 5.5 foot, 6.5 foot, and 8 foot beds available.
2015 Ford F-150 Reviews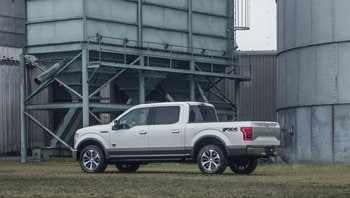 When the plans for the 2015 Ford F-150 were first announced, it caused quite a stir from the automotive press. But once the reviews started coming out, it was clear that Ford's bold changes were a visionary decision:
Edmunds: "The redesigned 2015 Ford F-150 may not look all that different, but those familiar lines disguise what is unquestionably the most sophisticated and capable version of this best-selling pickup ever to hit the road."
Car and Driver: "The smallest six-cylinder pulls confidently low in the rev range and offers exceptional refinement in terms of noise, vibration, and power delivery."
Kelly Blue Book: "As I drove along, the hype surrounding the aluminum body of the new F-150 faded away. The F-150 quickly established itself as a really nice truck that felt light and agile."
Put the 2015 Ford F-150 to the Test at Arlington Heights Ford
Can the redesigned 2015 Ford F-150 do everything you demand of it? Visit Arlington Ford in Schaumburg and decide for yourself. We are open Monday through Saturday and easy to find right off of IL-53, just 15 minutes north. Our dealership is located at 801 West Dundee Road in Arlington Heights, IL, and we have an extensive inventory of 2015 Ford trucks on our lot right now.