The 2014 Ford Mustang Offers a New Level of Performance and Fun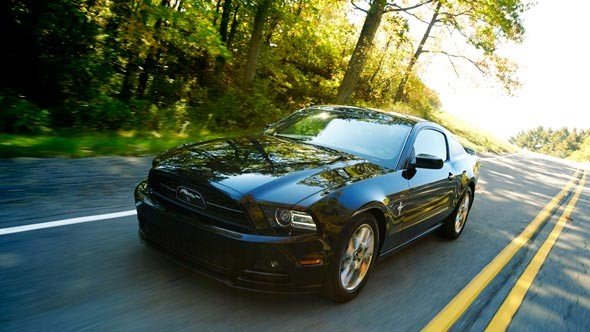 The 2014 Ford Mustang promises all the thrills that you expect from this famous sports coupe, and you can see it for yourself at Arlington Heights Ford. The Mustang will be fully redesigned in 2015, but that means that the last model of this generation should be the best one yet. If you're shopping for a fun and very affordable muscle car near Schaumburg, the Mustang should be on your list.
Powertrain and Performance
The base 2014 Ford Mustang comes with a 3.7L V6 good for 305 hp and 280 lb-ft of torque. That's enough power to propel the V6-powered Mustang to 60 mph in 5.7 seconds with a manual transmission. The optional 5.0L V8 cranks out 420 hp and 390 lb-ft of torque and will go from 0 to 60 mph in only 4.7 seconds. The V6-powered model will even get you 31 mpg on the highway - that's a impressive score for a sports car!
Depending on which trim level you choose - the base or the GT - you can add a series of performance upgrades. Performance axles with lower gear ratios for faster acceleration and high-performance Brembo brakes are both available. Larger 18- and 19-inch wheels are also options.
Comfort and Convenience
The Mustang might be a sports car at heart, but it won't leave you cramped or uncomfortable. The spacious and well-designed interior offers the modern amenities you've come to expect in contemporary vehicles. The Ford Sync system with voice activation is available, as are navigation, Bluetooth connectivity, an upgraded audio system, and more. Remember: the Mustang is available in both coupe and convertible formats, so if you enjoy a little wind in your hair, test drive the drop-top model.
Visit Arlington Heights Ford
If you're shopping for a muscle car, then it would be hard to do better than the 2014 Ford Mustang. This venerable vehicle practically created the pony car segment, so why not opt for the original? We're your Schaumburg area Ford dealer, located at 801 W. Dundee Rd. in Arlington Heights, IL, so come check out the Mustang or the rest of the exceptional Ford lineup today. We're sure you'll find your next vehicle right here at Arlington Heights Ford.