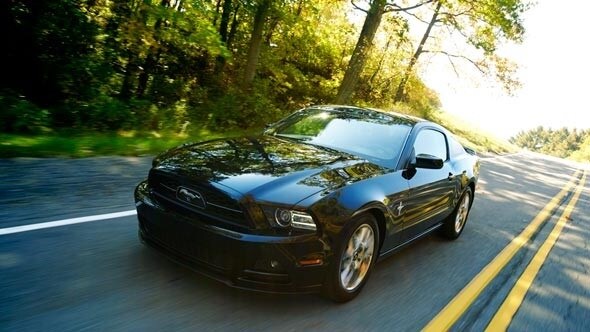 The Dodge Challenger and the Ford Mustang have battled for the dollars of muscle car enthusiasts for just about as long as anybody can remember. Here at Arlington Heights Ford, we have to respect the Challenger; it offers admirable performance and distinct retro styling. We just think that the 2014 Ford Mustang is a better choice for most Schaumburg area drivers. Why? Read on to find out.
Powertains, Performance, and Efficiency
If you're in the market for a sports car like the Challenger or the Mustang, sure, you want power, but you probably also want your gas to take you farther, right? The Mustang handily bests the Charger when it comes to fuel economy when both are equipped with equivalent V6 engines: the Mustang is rated at 29 mpg on the highway and 19 mpg in the city while the Challenger is only rated at 27 mpg highway and 18 mpg highway based on EPA ratings.
With such a marked difference in fuel economy you might expect that the Mustang has a less powerful engine. You would be wrong. The two V6 mills actually both crank out 305 hp but the Mustang makes 280 lb-ft of torque, while the Challenger only makes 268 lb-ft. You'll feel that advantage at the starting line.
Comfort and Convenience
We know that even if you're looking for a sports car, you still want some creature comforts. The Mustang has a few conveniences that aren't available in the Challenger. Multi-zone climate control is available on the Mustang but unavailable on the Challenger. The Mustang gets HID headlights standard, but those are an upgrade on the Challenger. The Mustang offers a universal garage door opener standard, while that's another upgrade on the Challenger. Finally, the Mustang can be equipped with a handy backup camera; that's not available on the Challenger.
Visit Arlington Heights Ford Today!
If you're looking for a sports car that offers awesome performance, impressive fuel economy, and plenty of comfort, then drive the 2014 Mustang! Visit Arlington Heights Ford, your local Schaumburg area Ford dealer, today, and see for yourself!