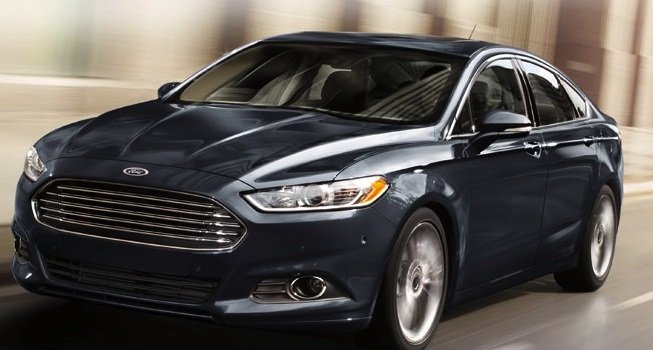 People have depended on the Toyota Camry to provide reliable, efficient transportation for years. That, however, just doesn't cut it anymore, when you've got competition like the 2014 Ford Fusion here at Arlington Heights Ford. Schaumburg area drivers have been impressed by the efficiency and reliability of the Fusion, but that's not all; the Fusion also boasts dynamic style, a long list of high-tech features, and much more. The Camry just can't keep up anymore! Here are a few reasons why:
Powertrains, Efficiency, and Performance
There are plenty of options with both of these sedans. Both ship with a 2.5L inline four, good for impressive fuel economy and good power output. Decide to go with an engine upgrade and you see a pretty big divergence: the Ford gets a 2.0L EcoBoost turbocharged four-cylinder, which boosts power considerably but still nets 33 mpg on the highway. The V6 option on the Camry will net no serious performance improvements over the Fusion, and yields only 31 mpg on the highway based on EPA estimates. The Ford is also the only car in this comparison available with all-wheel drive-that makes it the perfect all-weather car for those of you who live in climates with winter, like here in Chicagoland!
Comfort and Convenience Features
The Ford Fusion gets the SYNC system standard, which gives you convenient phone integration features, handsfree calling, telematics services with emergency notification, and voice command technology. Nothing like that comes standard on the Camry! Tech features aren't the only thing the Ford has going for it: it's also got more head room, leg room, and hip room in the front. The Fusion also boasts more cargo space. You also get a standard anti-theft system on the Fusion that's unavailable on the base Camry.
Come Visit Arlington Heights Ford
Need more reason to choose the Fusion over its competitors? Just come drive it! You'll surely be impressed by its poised handling and confident demeanor. Arlington Heights Ford is your local Naperville area Ford dealer, located at 801 W. Dundee Rd. in Arlington Heights, about half an hour from Naperville or Schaumburg. We hope to see you soon!