The 2014 Ford Focus Hatchback vs. the 2014 Mazda3 Hatchback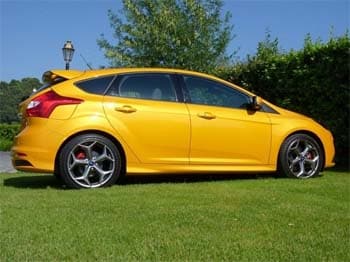 If you're in the market for a practical small hatchback that's also fun to drive around Schaumburg, the 
2014 Ford Focus Hatchback
is for you. The 2014 Mazda3 Hatchback attempts to provide a similar formula, but just can't keep up to the Focus. We'd be delighted to let you take a test drive in the Focus Hatchback when you visit Arlington Heights Ford - but in the meantime, read on to find out a few points where the Focus comes out clearly ahead.   
Powertrains and Performance
Both of these compact hatchbacks get small four-cylinder engines, but at every turn you can expect the 2014 Ford Focus Hatchback to outperform the 2014 Mazda3 Hatchback. In the base models, the Mazda receives a 2.0L four-cylinder that creates 155 hp. The Focus gets a 2.0L that makes 160 hp. Both of those vehicles can hit 40 mpg on the highway in the most efficient versions. Why not opt for the extra horsepower?
Speaking of power, the Focus ST offers a genuine performance option. While the Mazda3 can come equipped with a 2.5L four-cylinder good for 184 hp and 185 lb-ft of torque, that doesn't come close to the catching up with the Focus ST. That car gets a 2.0L turbocharged EcoBoost four-cylinder that makes an astounding 252 hp and 270 lb-ft of torque. If you're looking for a hot-hatch, the Focus ST is an obvious choice.
Features and Options
The Focus Hatchback and the Mazda3 Hatchback do come with a wide array of fantastic features, but the Focus is better equipped. Inside, you'll find that the Focus is available with a security system, multi-zone climate control, heated mirrors, satellite radio, HID headlights, illuminated vanity mirrors, and a leather-wrapped steering wheel - none of those features come standard on the Mazda3 Hatchback. The Focus Hatchback also offers more front headroom than the Mazda3 and more cargo volume with all of the seats in place. Want a moonroof? You'll have to go with the Focus Hatchback. Want heated leather seats? Again, the Focus is the choice you'll have to make.
Visit Arlington Heights Ford
Come check out the 2014 Ford Focus Hatchback today at Arlington Heights, your leading Schaumburg area Ford dealership - we're confident you'll be impressed with this outstanding hatchback. We're located at 801 W. Dundee Rd. in Arlington Heights, IL. We hope to see you soon!