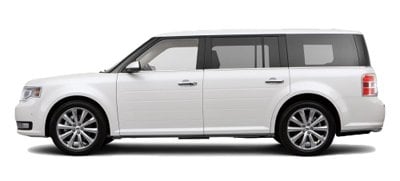 If you're shopping near Schaumburg for a full-size sport utility vehicle that offers exciting performance and the latest conveniences with a focus on driver comfort, chances are that you have encountered the 2014 Ford Flex and the 2014 Honda Pilot during your research. After a thorough comparison of these two models here at Arlington Heights Ford, we determined that the new Ford Flex delivers more than the new Honda Pilot.
Higher Standard Power Output
Both the 2014 Ford Flex and the 2014 Honda Pilot are equipped with 3.5L V6 engines. However, the new Ford Flex powertrain is capable of producing greater performance than the new Honda Pilot's. Take a look:
Ford Flex Engine Specifications: The new Ford Flex engine delivers a whopping 287 hp and 254 lb-ft of peak torque. It's mated to a standard 6-speed automatic transmission with a dual shift mode for added control.
Honda Pilot Engine Specifications: The new Honda Pilot powertrain puts out 250 hp and 253 lb-ft of torque. It's only mated to a 5-speed automatic transmission that doesn't offer a dual shift mode. Gear ratios and engine control are both limited compared to the new Ford Flex.
More Standard Amenities
Designed with safety and convenience in mind, the 2014 Ford Flex provides occupants with both at no extra cost. Standard sensors located in the rear bumper of Ford's versatile SUV detect objects behind the vehicle that might otherwise go unnoticed when reversing. An audible alert will let you know of any obstructions. The new Ford Flex also comes with a standard auto-dimming rearview mirror that adjusts itself to prevent any unwanted headlight glare. The 2014 Honda Pilot does not offer standard rear parking sensors or an auto-dimming rearview mirror - these are costly extras.
Explore the 2014 Flex at Arlington Heights Ford Today
To see if the 2014 Ford Flex is the ideal sport utility vehicle for you at a Ford dealer near Schaumburg, visit our showroom at 801 W. Dundee Rd. in Arlington Heights, IL! We'll even arrange a test drive before your visit if you contact our sales team at (847) 481-0427. We're only 12 miles from Schaumburg via IL-53 N.