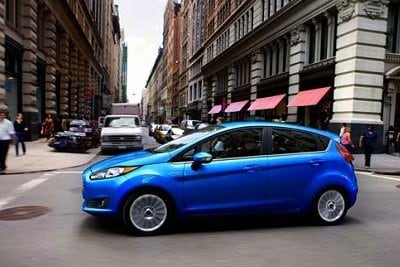 Are you in the market for a subcompact hatchback? Well the choice is increasingly tough with a number of high-quality vehicles on offer from manufacturers. Here at Arlington Heights Ford we're proud to offer the 2014 Ford Fiesta-it's won over both Schaumburg area drivers and critics alike with its dynamic styling and fun-to-drive personality. We simply think it's a better choice than the 2014 Chevy Sonic. Why? Well, read on to find out!
Fuel Economy: The first priority for many drivers these days, fuel economy stands for not only a lower fuel cost, but a lower carbon footprint. The Fiesta is an easy choice in this department: the EPA estimates the Fiesta will yield 38 mpg on the highway/27 mpg in the city/31 mpg combined! The Sonic will only get 35 mpg highway/25 mpg city/28 mpg combined.
Price: Comparably equipped base models of the Sonic and the Fiesta show that the Sonic costs over $1,000 more. The Fiesta starts at $15,395 while the Sonic will run you $16,690-both with automatic transmissions. Imagine what you could do with that extra $1,200.
Options: Both the Sonic and the Fiesta are available in both sedan and hatchback configurations; a hatchback is perfect if you need a little extra cargo space. However, only the Fiesta is available in a performance hot-hatch variant: the Fiesta ST. With a better EPA fuel economy estimate than the Sonic and a 197 hp intercooled turbocharged four-cylinder, the Fiesta ST will thoroughly trounce any Sonic when it comes to performance.
Features and Options: Both of these subcompacts will provide a long list of standard features and great value, but look at some of the features that are missing from the Sonic but standard on the Fiesta: an mp3 player and power mirrors.
Space: The Fiesta beats the Sonic when it comes to front head room and front leg room-probably the two most important passenger dimensions!
Visit Arlington Heights Ford Today!
If you're in the market for a high-value subcompact sedan or hatchback then come drive the Ford Fiesta at Arlington Heights Ford. We're located at 801 W. Dundee Rd. in Arlington Heights, just a few minutes from Schaumburg. We'd love to see you soon!