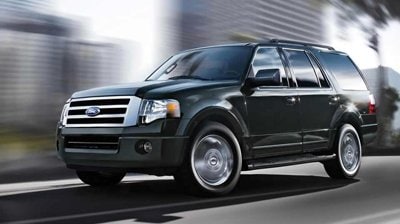 Here at Arlington Heights Ford we know that not everybody needs to tow 9,200 pounds and carry eight-passengers at the same time, but for those who do, there's the 2014 Ford Expedition. The Expedition is not without competition, however, and the 2014 Toyota Sequoia is a respectable choice when it comes to a full size SUV. But the Ford Expedition is simply a better choice. There are plenty of reasons why. Read on to learn more!
Fuel Economy: Fuel economy matters even if you're driving one of the biggest passenger vehicles on the road. In fact, those miles per gallon are even more important. The Expedition yields a better EPA rating than the Sequoia. Where the Expedition gets 20 mpg highway and 14 mpg city, the Sequoia is only rated at 18 mpg highway and 13 mpg city.
Towing Capacity: Despite the higher fuel economy rating, the Expedition will still work harder than the Sequoia. With a maximum tow rating of 9,200 pounds when properly equipped, the Expedition beats the Sequoia by 1,800 pounds-the Sequoia is rated at 7,400 pounds. The Expedition also has a payload capacity of over 300 pounds more than the Sequoia.
Interior Space: Both of these spacious SUVs will offer a whole lot of room inside. Only the Expedition offers an extra long EL model to maximize cargo space. Expedition EL models can carry up to 130.8 cubic feet of cargo while the Sequoia maxes out at 120.1 cubic feet. The Expedition also offers more head room, both front and rear.
Price: Just because you need a whole lot of capability doesn't mean you want to spend a whole lot of money. The Expedition starts lower-at only $39,530 MSRP-while the lowest price Toyota Sequoia will set you back is $44,590 MSRP for the base model! Both are comparably equipped by the way. The top end model of the Expedition-the EL King Ranch-is more than $5,000 less than the top end Sequoia Platinum.
Visit Arlington Heights Ford
We're your leading local Schaumburg area Ford dealer and we would be happy to let you test drive the current 2014 Ford Expedition today. We're located at 801 W. Dundee Rd. in Arlington Heights, just a short trip from Schaumburg, so come visit us today!