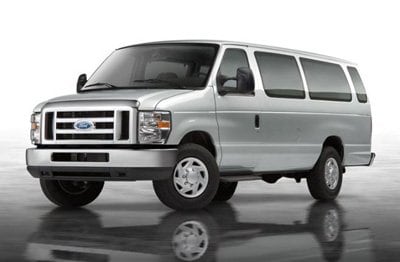 Searching for the best choice for your business? Choose the 2013 Ford Econoline Wagon here at Arlington Heights Ford. This hardworking van is ready to be outfitted to suit your needs, whatever they might be. We think it's simply a better choice than the 2014 Chevy Express. Why? Read on to find out.
Powertrain and Capacity
When you're shopping for a work van you aren't worried about top speed; you need efficiency and capability. Both will save you money; more miles per gallon mean less money at the pump and less downtime. More capability can mean fewer trips because you can carry more. Luckily the Ford Econoline has more capacity in both towing and inside the cab than the Chevy express. You get a maximum of 6,500 pounds of towing capacity with the Econoline, while the Express will give you 6,200 pounds. Inside, the Econoline will haul a total of 2668 pounds, more than a thousand pounds more than the 1582 pound payload rating of the Express. That superb towing and payload capacity is due to the superior torque rating of the Econoline: it produces 350 lb-ft of torque compared to the 334 lb-ft of the Express.
Cargo Area
If you're buying a cargo van you've got one thing in mind-cargo. Well the choice here is obvious. You've got to go with the Econoline. You get 278.3 cubic feet of volume to the front seats-enough to fit some subcompact cars!-the Express will only cram 216.2 cubic feet behind the front seats. It's simply not a contest, if you want the capacity you need you'll have to go with the Ford Econoline.
Visit Arlington Heights Ford Today
If you're on the hunt for the next vehicle for your business then you should certainly check out the Ford Econoline. It offers the capacity and capability you need. Visit Arlington Heights Ford at 801 W. Dundee Rd. in Arlington Heights, just a few minutes from Schaumburg, to find out more. While you're here make sure to let us take care of your regularly scheduled maintenance and take a look at the rest of the current Ford lineup. We hope to see you soon!